My Google Reader has fallen, and it can't get up.

Google was late in creating centralized accounts for all of its services (integrating AdWords in the fall of 2005). As such, I ended up with separate accounts for various Google services, including Gmail, Google Reader, AdSense, and AdWords. Today, I decided to merge two Google accounts. I exported my Google Reader subscriptions as an OPML file from on account and successfully imported it into my new account. I moved my Google Groups subscriptions successfully. Ditto for AdSense and AdWords. I tested all of the services in the new account and declared victory. Then, and only then, I deleted the old Google account.
Then my problems started. Now, when I try to login to Google reader, it hangs. I'm getting the Google Reader equivalent of the blue screen of death: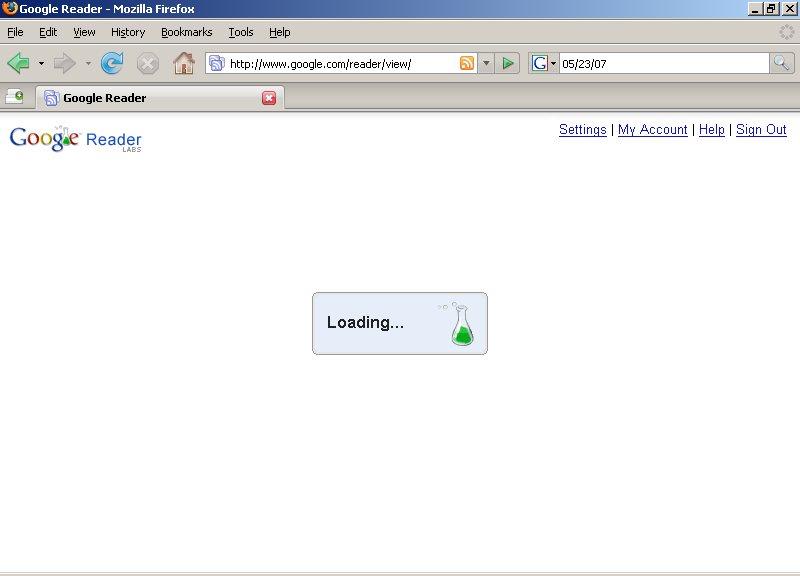 Here's what I've tried to fix this problem:
clearing Firefox's cache
clearing Firefox's cookies
quitting and restarting Firefox
accessing Google Reader from Internet Explore
accessing Google Reader from another computer running Windows
accessing Google Reader from another computer running OS X
None of these tricks worked.
All of the other Google services work fine. The only thing that is broken is Google Reader. I know, you get what you pay for, and Google Reader is free. But now it's free and broken! Totally broken. With no apparent way to fix it. And no apparent way to get in touch with Google. I've searched Google for help on this issue, and the Google account help pages have no help pages about Google Reader. Furthermore, I searched (for about 15 minutes) for a contact form where I could send email to Google support (does that even exist?) about the problem. No luck. Maddening.
So if you know of some secret way of contacting Google to fix this problem, I'll gladly accept your advice. If I could pay to fix this problem, then I would. Until then, HELP!