By Kelli Proia
First published 9/6/2016; YearOfDisruption.com; publisher: GiantPeople.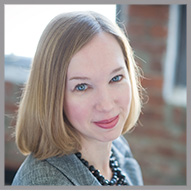 Biography of Kelli J. Proia
Kelli Proia is the founder of Lawducate, an on-line learning platform designed to teach basic business skills to attorneys. Kelli spent 16 years working in both in-house and private practice as an intellectual property attorney. When the Great Recession hit, she noticed that many of her colleagues lacked the basic business skills necessary to run 21st century law practices, and that lack of knowledge was hurting the profession she loves. In response, Kelli founded Lawducate to teach the business skills and strategies that are successfully used every day in nearly every business sector across America, just adapted to meet the needs of attorneys. Kelli lives in Lincoln, RI with her husband, Bob, and their daughter. She enjoys volunteering at her daughter's school, reading, and is an avid fan of the band U2. Kelli blogs at lawducate.com, tweets at @lawducate, and you can connect with Kelli on LinkedIn at https://www.linkedin.com/in/kelliproia.