Why and how to vote for Taylor Hicks to win American Idol.
Taylor Hicks, Elliott Yamin, and Katharine McPhee compete tomorrow on American Idol. I want Taylor Hicks to win, and here's why.
Taylor Hicks has been, from the beginning, the underdog. America loves an underdog. He does not look the part of an American Idol, in part because his hair is prematurely gray. And in the Las Vegas auditions, Simon did not think Taylor should advance to the Hollywood round. Who wouldn't enjoy seeing Simon proven wrong?
I have said all along that Taylor Hicks is the best performer of this year's American Idol contestants, and I also believe that he is the best singer. After initially liking "Wanted Dead Or Alive," I found the rest of Chris Daughtry's rock yelling tiring and monotonous. I find Elliott's singing technically accomplished but uninteresting to listed to. And all I can remember from Katharine McPhee is boring ballads.
Taylor was motivated to audition by the performance of fellow Alabaman Bo Bice, who finished second last year. Taylor, like Bo Bice, has his own band and has been performing for years. He knows how to sing, knows how to perform.
Simon Cowell said that he didn't think that Taylor could be commercial. To quote Simon, "I disagree completely." I am a nearly 40-something attorney who spends a lot of money on entertainment, and I have never purchased any Idol-related merchandise until this year. After I saw Taylor perform "Levon" (American Idol S05E12), I purchased his second CD (his first CD is out of print) entitled "Under The Radar" (http://www.lasersedgecd.com/hicks_taylor.html). Once you listen to "Under The Radar," you will understand why Taylor Hicks will be commercially successful. This is some seriously fun, smooth, tight, grooving music. Taylor's voice mixes seamlessly with keyboard runs and sax solos. Good stuff. A problem with American Idol, I believe, is that the big band big stage atmosphere of the later rounds is not an ideal environment for a singer to sing. (It's only been in the last couple of weeks that we've actually been able to hear Elliott over the band.) The Taylor Hicks we hear on "Under The Radar" is quite different from the Taylor Hicks that we see on American Idol. His performances of "Trouble" (American Idol S05E24) and "In The Ghetto" (American Idol S05E36) come close to his "Under The Radar" style.
Taylor Hicks appeared on WBHM public radio in Alabama in December 2005 (http://www.wbhm.org/Tapestry/bands/TaylorHicks.html). You can hear clips of three of his songs from the "Under The Radar" CD on the WBHM website, including: Hell Of A Day, Heart And Soul, and Soul Thing. Listen to the music, then decide.
I also encourage all Taylor Hicks fans to download the (Windows only) DialIdol program, which will automatically dial the phone numbers of the contestants of your choosing. You can download the software from the DialIdol.com website (http://www.dialidol.com/). Make sure your computer's modem is plugged in to your phone line, start the program, and then run the self-test to make sure all is working. If it is, then you'll get this message: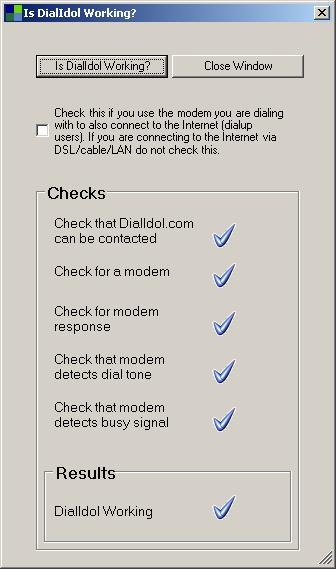 The main DialIdol screen looks like this: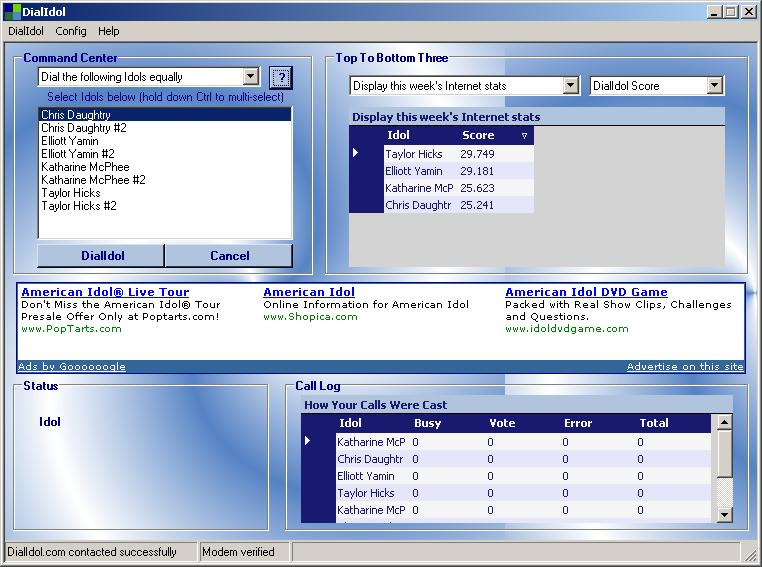 Click the "?" button for help or select "FAQ" or "About" from the "Help" menu.
Taylor Hicks is no longer under the radar, but he'll need votes to win. Vote for the Taylor Hicks of your choice but vote!