A fun new way to draw, trace, and write with light.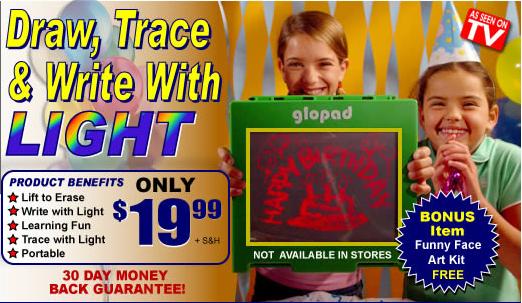 The GloPad <http://www.glopad.com/> is a cool new drawing toy that lets you draw, trace, and write with light. But I can't describe it as well as their television commercial, which I've transcribed here:
"What's always bright and lights up in both day and night? It's GloPad! The fun new way to write with light! Watch as you draw, color, or create, it instantly illuminates! Lights on or lights off, your artwork will always glow sparkling bright! Draw moons and stars that really shine at night! And when you're done, just lift to erase! Forget messy finger paints, because with GloPad, the light follows your finger all over the place! Play tic-tac-GLOW! Have fun learning ABCs! And get a load of this! With GloPad, you can trace with light! Light up pictures of your pets! You can even trace your best friend's face! Wow! GloPad lights up in yellow, red, or green! You can get the amazing GloPad to trace with draw, trace, and write with light for $19.99! Plus, when your order from this TV, we'll include the funny face art kit to trace goofy faces FREE! Here's how to get yours!"
This toy was invented and licensed by one of Clock Tower Law Group's clients and I tam hrilled to see it hit the market in time for the holiday shopping season. Makes the perfect Hanukkah or Christmas gift. I just purchased six of them.