Waiting in (virtual) line at Amazon for a chance to buy a Nintendo Wii.

As I have mentioned previously, I am offering to draft a provisional patent application in exchange for a Nintendo Wii. Which is, by the way, a very good deal. You could buy a Nintendo Wii on eBay for about $750 and get legal services worth about $5,000.
Meanwhile, over the weekend, Amazon gave existing Amazon customers a chance to win the right to buy a Nintendo Wii (and other popular but hard-to-find holiday gifts) as part of its (oddly named) Amazon Customers Vote promotion (which is not technically a raffle). As a long time Amazon customer (I bought my first book in 09/21/96), I appreciate the fact that Amazon limited this promotion to existing customers. So I think this was a very smart business decision on Amazon's part. So while Amazon generates goodwill over the Wii shortage, Nintendo continues to generate ill-will. Here's Amazon said about their decision:
Why can't I sign up with a brand-new account?
Amazon.com welcomes and deeply appreciates new customers, but we wanted to offer a special year-end opportunity for existing customers. ("Make new friends, but keep the old / One is silver, and the other's gold.")
According to Amazon, my odds are 1 in 28 that I'll get a chance to buy a Nintendo Wii. Which is better odds than I'll get waiting in line at the mall.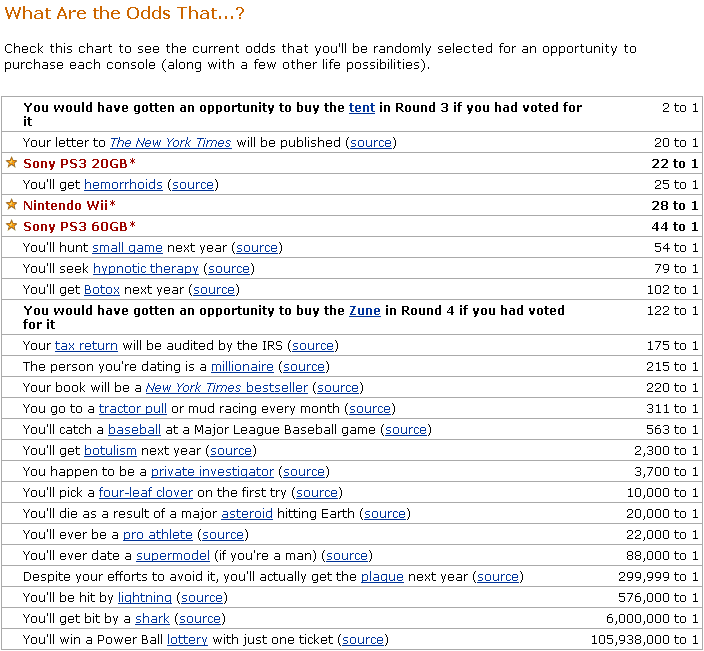 And did I mention the free patent thing?