Plus how to find RollingStone 5-star reviews.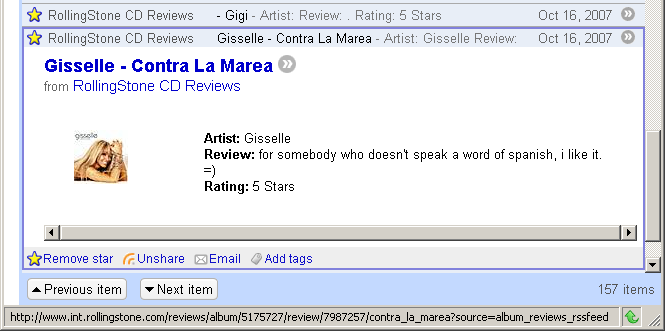 On 10/16/07, two very interesting reviews (review one, review two) appeared in RollingStone's album reviews feed. Here's one of them:
Gisselle – Contra La Marea
Artist: Gisselle
Review: for somebody who doesn't speak a word of spanish, i like it. =)
Rating: 5 Stars
Hmm, a 5-star review from RollingStone magazine that's only one sentence long. With typos. For an artist I've never heard of. Plus the review points to a URL that is 404.
I suspect feed hijacking. Or hacking. Or a disgruntled worker having some fun at the expense of RollingStone. The truth may never be known.
Like most publishers, RollingStone is mostly clueless about how to leverage its content. A 5-star review from RollingStone is so rare that each one should merit a press release, multimedia blog posts, and perhaps a day off for all RIAA workers. But I challenge you to find a list of 5-star reviews on RollingStone.com.
Because RollingStone's five-star reviews are so difficult to find, I created my own page of them. But if you've got great content, then you should leverage it. Rather than relying on the kindness of strangers.
Oh yeah, and don't let your feed get hijacked.