'Free!' is perhaps today's hottest buzzword. When considering computers, software and services, just how 'free' is 'free'? Here's a guide for reading between the letters.
By Erik J. Heels
First published 1/1/2000; Law Practice Management magazine, "nothing.but.net" column; American Bar Association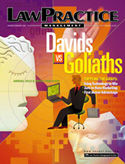 Whoever said "the best things in life are free" must have landed a boatload of venture capital from Wall Street investors. In case you haven't noticed, "free" is the latest greatest buzzword in the booming Internet market space. And for the lawyer with a little bit of curiosity, there is a goldmine waiting.
Free Computers
Before you can get on the Internet, you need a computer. In many cases, you can use any computer with an Internet connection to do your work. With the advent of Web-based e-mail services such as Yahoo Mail and HotMail (see below for details), it is possible – but perhaps not practical – for a lawyer to benefit from the Internet without owning a computer.
For those on a budget, there are many options for getting a computer at little or no cost. America Online started the trend by offering a $400 rebate through its CompuServe brand with the purchase of an Emachines PC (http://www.e4me.com/). America Online is a minority shareholder in Emachines, which specializes in making low-cost computers, so the deal makes sense for America Online.
Other Internet providers, computer manufacturers and distributors quickly followed suit in the increasingly competitive market for subscribers. More particularly, the companies offering "free" computers are really trying to establish customer bases, establish name brand recognition and brand loyalty, and establish a channel for selling other products and services. Those who opt for the "free" computer services do so at a price. The cost usually is having to put up with a healthy dose of advertising. This is the basic model used by such companies as Free-PC (http://www.free-pc.com/) and CompUSA (http://www.compusa.com/). But the extreme example of the free computer marketing technique is FreeMac (http://www.freemac.com/). FreeMac, which has no affiliation with Apple Computer, announced it would give away one million free Apple iMac computers. The iMacs will come with Internet access from EarthLink and e-commerce services from Cybercash. There will be a drawing for those who meet the requirement criteria, so you have to be a bit lucky and you have to meet certain requirements. Those who qualify for a free iMac will have to agree to pay for three years of EarthLink Internet access service at $19.95 per month and qualify for a FreeMac Visa card. A whopping 2 gigabytes of hard disk space on the FreeMac iMacs is reserved for multimedia content (i.e., advertising).
It's unclear how the advertising will be delivered to subscribers, but there are many ways. Computer manufacturers already can customize Windows startup screens to display, for example, the name of their company (such as Dell or IBM) and the name of licensed software the computer is running (such as Windows and Internet Explorer). Other forms of advertising include items placed on the user's desktop and in start menus. Advertising can be delivered via customized Web browsers (Netscape Navigator and Microsoft Internet Explorer) and, of course, via e-mail. A computer is simply a tool. A free computer certainly can be programmed in many creative ways to display advertising to the user.
Some Internet service providers have been criticized for giving out used – and sometimes nonfunctioning – computers as part of their "free" computer giveaway. While this is certainly not true with FreeMac (those are all new Apple iMacs), it may be true with some smaller Internet service providers. And while no formal investigations are underway, the New York and Florida attorney general offices and the FTC are all aware of the practice. New Hampshire-based Empire.Net, the ISP that first offered free PCs, makes it clear up front that users must commit for three years of service. But Texas-based Flashnet Communications was criticized by customers who complained of receiving refurbished (and occasionally broken) PCs.
In short, you can get a free computer if you're persistent, lucky, qualified and agreeable to paying for about three years of Internet access. That's about $720 dollars, so if you're considering getting one of these "free" computers, also consider how much it would cost to buy the Internet services and a computer separately.
Free Internet Access and E-mail
If you have a computer but don't want to pay for Internet access or e-mail, many options are available to you.
In exchange for demographic information and the presence of a persistent advertising banner on your screen, you can get free access and e-mail from NetZero (http://www.netzero.com/). Juno (http://www.juno.com/) uses a similar model for providing free e-mail, but you have to use Juno's own software.
If you prefer Web-based e-mail, there are also many options. Currently free Web-based e-mail is available from Yahoo Mail (http://my.yahoo.com/), HotMail (http://www.hotmail.com/) and others (http://dir.yahoo.com/…).
Personally, I have a free My Yahoo account, which I use for checking e-mail when I'm traveling without my computer (it happens). It's also worth noting that FindLaw and Law.Com provide free Web-based e-mail. With Yahoo, your e-mail address is of the form "username@yahoo.com." With FindLaw, your free e-mail address would be "username@justicemail.com," and with Law.Com "username@law.com."
I recommend that business users, including sole practitioners, register their own domain name and get an e-mail address in that domain. For example, my law firm e-mail address is "info-at-heels-dot-com." If you're looking for free domain name registration, you can find that, too, at such sites as Register.Com (http://www.register.com/) and 9 Net Avenue (http://www.9netave.com/). Companies such as these generally will require that you agree to have them host your domain name for a certain period of time, and they will try to upsell you Web hosting and Web design services.
Other free Internet services are available, like unified messaging (fax messages and voice mail messages) from eFax (http://www.efax.com/) and online hard disk backup from Atrieva (http://www.atrieva.com/). By combining a few of these services, you can create a powerful and lasting virtual presence on the Internet, with e-mail addresses, phone numbers and fax numbers that you can take with you for years. For example, I have had a longtime Yahoo Web-based e-mail account. I also have a unified messaging service (not from eFax but from Jfax – more on that later) that turns my voice mail and fax messages into e-mail attachments. Now, no matter where I am, as long as I have a Web browser, I can check my e-mail, voice mail and faxes. Plus I can back up my most important files (such as my address book) for free to the Internet with Atrieva.
These are just examples of powerful tools that are out there for free.
Free Software
Any column about free stuff on the Internet would be incomplete without some mention of the huge selection of free software available online. Much of the software I use daily is free: Netscape Navigator and Communicator (http://home.netscape.com/computing/download), Microsoft Internet Explorer (http://www.microsoft.com/windows/ie), Adobe Acrobat Reader (http://www.adobe.com/prod index/acrobat/readstep.html) and the demo version of EudoraPro Email (http://eudora.qualcomm.com/products/index.html). Actually, I started with the demo version of Eudora and then purchased it, which is just what they were hoping for!
For other free or almost free software (called "shareware," if users pay a small license fee), be sure to bookmark CNet's Download.Com (http://www.download.com/) and Shareware.Com (http://www.shareware.com/), as well as ZDNet's HotFiles (http://www.hotfiles.com/). On these sites, browse through the listings of their most popular downloads to find file compression utilities, games, MP3 (music) players and Internet utilities such as FTP clients and news readers.
Odd Free Stuff
Overwhelmed by all the free stuff on the Internet? Don't know where to look for more?
Try http://www.free.com, which currently has about 3,800 listings of free stuff on the Internet. Other directories of free stuff include http://100PercentFreeStuff.com and http://www.free-stuff.com.
Here's a tip for you: If you're looking for something for free, search Yahoo for that item, find the category in Yahoo that includes it and then search just that subcategory for the word "free." Voilà . Free tofu!
Buyer Beware
There are risks and drawbacks associated with using free products and services of any kind. The first is that nothing is free. You have to give up something to get the free thing you're looking for, whether you agree to a long-term contract with an Internet provider, agree to view advertisements or agree to give up demographic information.
If you sign up with one provider, you are, of course, likely to be exposed to products and services associated with that provider. This may seem obvious, but it is often overlooked. West Publishing publishes one set of case law and commentary treatises; Lexis Publishing publishes another. Yahoo has one set of corporate partners; HotMail has another. Be aware that there are choices, and don't be afraid to venture outside the online environment presented to you.
Another risk is that companies can go out of business. I don't use eFax for this reason. I prefer to pay for unified message services from JFax (http://www.jfax.com/). Because I am paying money for something, I expect (and can demand) a certain level of service. If you are not paying money for a service, how much right do you have to demand better service?
Also, free demo versions of software eventually will expire. A friend of mine got stuck being unable to print (or do much of anything else, for that matter) because the demo version of Microsoft Office 2000 he was using expired. (Personally, I try to avoid beta software at all costs, unless I know I am going to be purchasing the same software soon.)
Some things are truly free, with no strings attached. This is particularly true of smaller utilities you'll find at shareware sites. So while you should be aware of the nonmonetary costs of various free products and services, you shouldn't necessarily dismiss something outright just because it's free. After all, you can read this column free at http://www.abanet.org/lpm/magazine/nbn/!