There's such a thing as too much information. But you can keep the online under control.
By Erik J. Heels
First published 10/1/2001; Law Practice Management magazine, "nothing.but.net" column; American Bar Association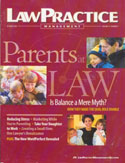 If you're like me, you spend a lot of time on the Internet. Perhaps you send and receive a great deal of e-mail. Or perhaps you spend time analyzing your web site statistics. Or perhaps you conduct research on the web. There are many ways to spend more time on the Internet. But perhaps you made a new year's resolution to simplify your life. If so, consider these five ways to simply your life on – and with – the Internet.
1. Organize Your Bookmarks
I have over 2300 bookmarks in my bookmarks file, which equates to about 51 printed pages. However, I do not feel like I have too much information bookmarked or that my bookmarks are out of control. I basically divide my bookmarks into two major categories: frequently accessed and chronological. My frequently accessed bookmarks include a variety of sites, such as reference site, vendor sites, and software download sites. My chronological files include bookmarks that were collected during a particular time or for a particular event. For example, when I review a group of web sites for this "nothing.but.net" column, I generally create a bookmark folder for that purpose. When I moved across the country, I created a series of bookmarks (and bookmark folders) for filing all of the web sites related to that event. Periodically, I review my bookmarks file and reorganize them. And periodically I find myself looking for some site that I visited or wrote about years ago. In these cases, it's quite helpful to have the full archives of bookmarks available. If you bookmark you bookmarks page, you can open your bookmarks page in your browser itself and then search that page (by typing control-F) for specific sites.
2. Consolidate Your Domain Names
If you have more than one domain name, consider consolidating them into one account with one registrar. With a consolidated account for your domain names, you can add domains and make changes to your domains with a simple web-based interface. I personally prefer the original registrar, Network Solutions (http://www.networksolutions.com/). Network Solutions Account Manager page (http://www.networksolutions.com/en_US/account/retail_a1.jhtml) was long time in coming, but it is a major step in the right direction. A major shortcoming is that you cannot transfer existing domains into your Account Manager, but Network Solutions informs me that this feature is coming soon. There are many other registrars (http://www.internic.net/regist.html), some of whom offer registration services for much less than Network Solutions charges, and many of these offer consolidated domain name management services as well. The good news is that it's getting easier to keep track of your domain names.
3. Organizing Usernames and Passwords
I keep all of the websites that require a username and password in one folder in my bookmarks file. I edit each bookmark listing to include usernames (but not passwords) for these sites. If you have trouble remembering all of your usernames and passwords, consider using Gator (http://www.gator.com/), a helper application that automatically remembers usernames and passwords for sites that you choose. IF you do a lot of shopping online, Gator can also be used to store credit card, bill to addresses, and ship to addresses that you may find yourself tying and retyping. This information is stored in encrypted form on your computer, not by Gator, so there appear to be no additional security risks by using Gator. Gator is free, but the price you pay is viewing ads periodically from Gator.
4. Finding and Using Shareware
Consider looking for shareware to help with automating routine tasks. I am always amazed at the variety of shareware and freeware programs that have simplified my computing experience. I search for shareware at a variety of sites and usually find what I'm looking for at CNET Shareware.com (http://shareware.cnet.com/), ZDNet Downloads (http://www.zdnet.com/downloads/), or Tucows (http://www.tucows.com/). Using these sites, I have found a great deal of useful timesaving software. Consider the following three examples.
Search'N Replace Pro (http://www.zdnet.com/downloads/stories/info/0,10615,80096,00.html) helps me search and replace text in multiple files, which is helpful for making changes to my web site pages (such as changing the footer on all pages when my address changed).
ThumbNailer (http://www.zdnet.com/downloads/stories/info/0,10615,30367,00.html) allows me to create thumbnail HTML index pages of images for all of those pictures that I scan and upload to my personal web site for my family.
ReadPlease 2000 (http://www.zdnet.com/downloads/stories/info/0,10615,47525,00.html) takes advantage of the text-to-speech functionality that is built into my computer. This wins the award for the most useful application of (what I previously though was) a useless technology. I am a solo practitioner, and I use ReadPlease to proof my documents. You'd be surprised how many errors I am able to catch by having the computer read my documents back to me!
5. Protecting Your Data Daily
My primary work computer is a Dell Inspiron 5000e laptop. I purchased it one year ago and plan on selling it on eBay next fall when it turns two year old. I believe that I have been able to save myself a great deal of time by purchasing the best laptop that I could afford at the time with the operating system (Windows 2000) and major software (Norton Utilities and Microsoft Office Professional) pre-installed. I intend to never update my operating system software. In my experience, upgrading operating systems – especially on laptops – generally takes a lot of time and leads to various other problems, such as incompatible hardware drivers that suddenly make selected peripherals stop working.
To keep my data secure, I have configured Symantec's Norton Utilities LiveUpdate to frequently check Symantec's web site for software updates and virus definition updates. I also use Connected's online backup service (http://www.connected.com/) to back up all of my data daily via the Internet to Connected's servers. The Connected TLM software is easy to install and set up. The service costs $14.95 per month, and I can order CD-ROMs of my data at any time. Since using this combination of anti-virus and online backup software, I have not had my computer infected with a virus, and I have not lost any data.
Less is More, Simpler is Better
When you are considering using any Internet product or service, ask yourself if the product is, in fact, going to simplify your life. I derive as much satisfaction from archiving infrequently unused bookmarks as I do from using a website that does one thing well. And if you are working with a deadline (http://www.earth.com/calendar), it's nice to be able to simplify your life by spending your time (http://www.time.gov/) online efficiently!