(ParodyLaw.com) Google announces email service. Or does it?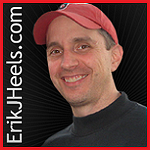 I've read Google's press release about its new Gmail free email service, with 1 GB of disk space, and I'm still not sure if this is truth or fiction.
The Register seems to think that it is real. So does The New York Times. The Slashdot crowd is divided.
Google's press release contains several witty quotes, including this one:
"The idea that there could be a better way to handle email caught the attention of a Google engineer who thought it might be a good '20 percent time' project. (Google requires engineers to spend a day a week on projects that interest them, unrelated to their day jobs). Millions of M&Ms later, Gmail was born."
Privacy advocates are likely to be concerned about this new offering, since ads will be based on user profiles. Whether real or parody, there is no better day to launch a potentially controversial new product than April Fools' Day.
I have contacted Google's PR department for clarification.