Never Forget.
Erik J. Heels launched his law firm, Clock Tower Law Group, the week of the September 11 terrorist attacks. It was very quiet in his office in the fall of 2001 and the spring of 2002. Two years later, he was featured in a cover story in the ABA Journal on lawyers as risk-takers. The advice he gives to startups is this: "Get plants. Because some days you are going to need a reason to go to the office. Most startups fail. But those that succeed are the ones that persevere through the tough times. As my mentor once said, success is not so much a matter of being at the right place at the right time as it is a matter of being. Just keep plugging. Go to the office. Water the plants. Grow your business."
The last decade was no picnic for Heels: three surgeries (e.g. rotator cuff), two recessions (including the 2008-present one), and one divorce. But he has a lot to be thankful for: "I have been impacted by 9/11, to be sure, but not nearly as much as others. My son's friend lost his father on 9/11, for example. I struggle with what to remember and what to forget about that day ten years ago. We must be optimistic about the future, and we also must learn from history."
These photos, showing the twin towers of the World Trade Center, were taken in New York City about six weeks before 9/11.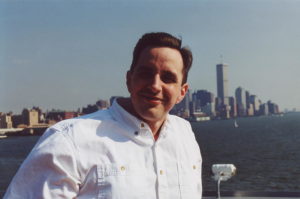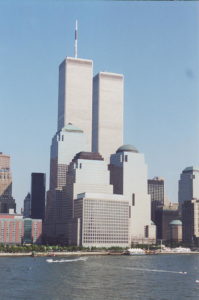 This photo, taken last week, shows an American flag poster that was placed in Clock Tower Place the week of 9/11. It is still there ten years later.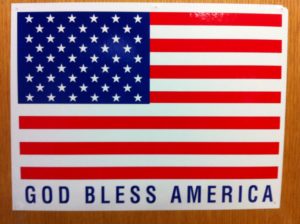 External Links
[I wrote this post in third person. For some reason, given the subject mater, it seemed more appropriate. Except for this part: My prayers go out to those whose loved ones were killed or injured on 9/11. My gratitude goes out to those who tried to save them. And to all, including those in the military, who are trying to make the world a better place.]