Internet marketing is a process, not an event.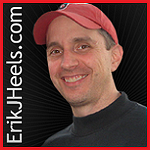 I'm redesigning my website again. So I've been thinking about how to most effectively tell my story.
Rick Klau recently commented that he was surprised how many startups were unable to succinctly state their value proposition:
It's amazing to me how many entrepreneurs aren't able to tell their startup's story. If you aren't passionate about your startup, and you can't communicate that passion to others, you have a very long road ahead.
So I decided to review some of the websites from ComScore's ranking of the top 50 US web properties to see how some of the most popular websites are telling their stories. In other words, if you went to these websites for the very first time, would you have any clue about what they do? If you've ever tried to explain Twitter to your parents or grandparents, then you know what I'm talking about.
In particular, I looked at the websites' visible titles, visible taglines, hidden description attributes, and hidden keywords attributes (the last two of which are meta elements). Then I compared them to my blog and website to see how I'm doing.
The Raw Data
| | | | | |
| --- | --- | --- | --- | --- |
| Rank | Title | Tagline (Visible) | Description (Hidden) | Keywords (Hidden) |
| 1 | Google | none | Search the world's information, including webpages, images, videos and more. Google has many special features to help you find exactly what you're looking for. | none |
| 2 | Yahoo! | none | Welcome to Yahoo!, the world's most visited home page. Quickly find what you're searching for, get in touch with friends and stay in-the-know with the latest news and information. | yahoo, yahoo home page, yahoo homepage, yahoo search, yahoo mail, yahoo messenger, yahoo games, news, finance, sport, entertainment |
| 3 | Microsoft Corporation: Software, Smartphones, Online, Games, Cloud Computing, IT Business Technology, Downloads | Be what's next. (TM) | Get product information, support, news from Microsoft. | Microsoft, product, support, help, training, Office, Windows, software, download, trial, preview, demo, business, security, update, free, computer, PC, server, search, download, install, news |
| 4 | Welcome to Facebook – Log In, Sign Up or Learn More | Facebook helps you connect and share with the people in your life. | Facebook is a social utility that connects people with friends and others who work, study and live around them. People use Facebook to keep up with friends, upload an unlimited number of photos, post links and videos, and learn more about the people they meet. | none |
| 5 | AOL.com – News, Sports, Weather, Entertainment, Local & Lifestyle | none | AOL offers today's news, sports, stock quotes, weather, movie reviews, TV trends and more. Get free email, AIM access, online radio, videos and horoscopes — all on AOL.com! | none |
| 6 | Amazon.com: Online Shopping for Electronics, Apparel, Computers, Books, DVDs & more | none | Online shopping from the earth's biggest selection of books, magazines, music, DVDs, videos, electronics, computers, software, apparel & accessories, shoes, jewelry, tools & hardware, housewares, furniture, sporting goods, beauty & personal care, broadband & dsl, gourmet food & just about anything else. | Amazon, Amazon.com, Books, Online Shopping, Book Store, Magazine, Subscription, Music, CDs, DVDs, Videos, Electronics, Video Games, Computers, Cell Phones, Toys, Games, Apparel, Accessories, Shoes, Jewelry, Watches, Office Products, Sports & Outdoors, Sporting Goods, Baby Products, Health, Personal Care, Beauty, Home, Garden, Bed & Bath, Furniture, Tools, Hardware, Vacuums, Outdoor Living, Automotive Parts, Pet Supplies, Broadband, DSL |
| 12 | Apple | The new, faster MacBook Air | Apple designs and creates iPod and iTunes, Mac laptop and desktop computers, the OS X operating system, and the revolutionary iPhone and iPad. | Apple |
| 13 | eBay | Electronics, Cars, Clothing, Collectibles and More Online Shopping | none | Buy and sell electronics, cars, clothing, apparel, collectibles, sporting goods, digital cameras, and everything else on eBay, the world's online marketplace. Sign up and begin to buy and sell – auction or buy it now – almost anything on eBay.com | ebay, electronics, cars, clothing, apparel, collectibles, sporting goods, digital cameras, antiques, tickets, jewelry, online shopping, auction, online auction |
| 19 | craigslist: boston classifieds for jobs, apartments, personals, for sale, services, community, and events | none | craigslist provides local classifieds and forums for jobs, housing, for sale, personals, services, local community, and events | none |
| 22 | WordPress.com – Get A Free Blog Here | A better way to blog. | Your Blogging Home | none |
| 34 | Twitter | Follow your interests | Instantly connect to what's most important to you. Follow your friends, experts, favorite celebrities, and breaking news. | none |
| 36 | LinkedIn | none | 120 million+ members | Manage your professional identity. Build and engage with your professional network. Access knowledge, insights and opportunities. | none |
| 39 | Netflix | none | Watch TV Shows & Movies Online or Streaming to your TV via Wii, Xbox, PS3 & many other devices. For Only $7.99 a month. | moves [sic] online, tv online, watch movies online, watch tv online, streaming movies, streaming tv |
| NA | @ErikJHeels | Technology, Law, Baseball, Rock & Roll | Erik J. Heels is an MIT engineer; trademark, domain name, and patent lawyer; Red Sox fan; and music lover. This is his blog about Technology, Law, Baseball, and Rock 'n' Roll. | About, Air Force, Apple, Baseball, Best Practices, Book Reviews, Business, Clients, Clock Tower Law Group, Copyjacking, Copyright Law, Domain Names, Erik's Favorites, For Sale, Freakonomics, Google, Happy Blank Day, Heels.Com, How-To, International Law, Internet Law, IP Law, LawLawLaw Newsletter, Legal Research, Licensing, Linux, Microsoft, MIT, Music, nothing.but.net, Open Source, Parody Law, Patent Law, Politics, Portfolio, Privacy, Random, RedStreet, Security, Social Networking, Spam, Technology, The Legal List, Top Law Articles, Top Tech Articles, Trade Secret Law, Trademark Law, TV Technology, Verio, Videos, Web Design, Weblogs, Worst Practices |
| NA | Clock Tower Law Group | The law firm where everybody knows your name. (R) | Clock Tower Law Group helps inventors, entrepreneurs, and established businesses acquire and maintain patents, trademarks, and domain names for their products and services. | apply for a patent, apply for patent, cybersquatting attorney, cybersquatting lawyer, cybersquatting lawyers, cybersquatting trademark, domain dispute, fighting cybersquatting, file a patent, file udrp, filing a patent, get a patent, get a trademark, intellectual property lawyer, invention help, invention patent, invention patents, ip lawyer, obtain patent, obtaining a patent, patent advice, patent an idea, patent an invention, patent attorney, patent attorneys, patent law firm, patent lawyer, patent lawyers, patent my invention, patent services, register a trademark, register trade mark, register trademark, register trademarks, registered trade mark, registered trademark, registered trademarks, registering a trademark, registering trademark, software patent attorney, software patent law firm, software patent lawyer, trade mark registration, trade mark search, trademark attorney, trademark attorneys, trademark filing, trademark law firm, trademark law firms, trademark lawyer, trademark lawyers, trademark registration, trademark registrations, trademark services, trademarks registration, typosquatting, udrp attorney, udrp lawyer |
Observations
Titles. Most companies used short titles without keywords. Notable exceptions were Microsoft and Facebook. Microsoft uses "Microsoft Corporation" in its title, even though I'm pretty sure that nobody refers to or searches for them by that name. Microsoft also – possibly desperately – includes "smartphones" in its title, something that they are not known for. Facebook's title begins with "Welcome to Facebook," which sounds a lot like the title for a website written in 1996.
Taglines. The biggest surprise here is how few website use taglines to explain what the heck they are. Microsoft's "Be what's next" is clearly the worst. Apple's "The new, faster MacBook Air" is clearly the best, not because it describes Apple, but because it is an example of Apple's laser focus on whatever product is currently hot.
Description. The (hidden) description attributes are all over the board. Microsoft's is short ("Get product information, support, news from Microsoft.") but doesn't actually say what the company does. WordPress.com's description ("Your Blogging Home") is OK, but their title ("Get A Free Blog Here") is even better.
Keywords. I was surprised that several of the top website use zero keywords. Perhaps I can get away with this approach in my redesign! Apple simply uses "Apple." Netflix, perhaps intentionally, misspells "movies" as "moves" in its keywords.
In comparison to the top websites, my titles, taglines, and description seem OK. My keywords are bad and need to be fixed or eliminated. But it's nice to know that even some of the top websites struggle with telling their story.
Related Posts
---
Erik J. Heels is a techie, lawyer, baseball fan, and musician. His IP law firm, Clock Tower Law Group, helps smart companies get patents, trademarks, and domain names. Given the subject matter of this blog post, he worked hard to get this paragraph right. How'd he do?