How to visualize social networking.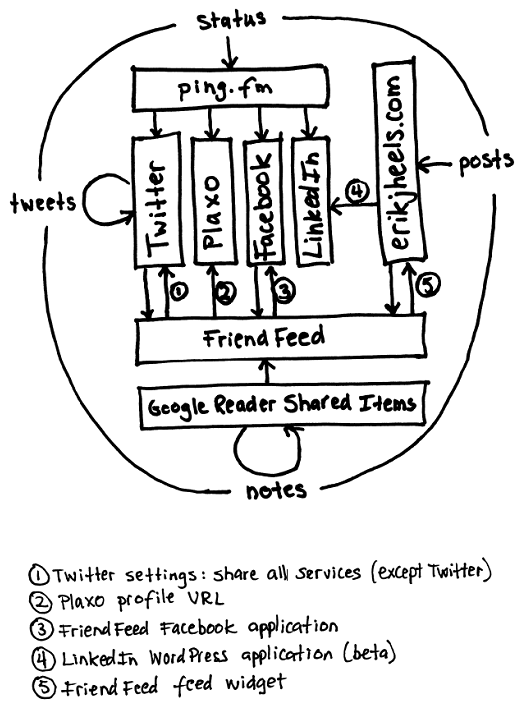 And You May Ask Yourself, How Do I Work This?
I wanted to be able to explain to those new to social networking how all of the pieces fit together. Plus with feeds being shared back and forth, I wanted to make sure that I wasn't creating any feed loops or leaving out any pieces. I use LinkedIn for business networking (my resume and the like), I use Facebook for friends and family, and I am passive on Plaxo (i.e. I accept invitations to connect but do not solicit new connections). Here's my drawing that explains social networking:
I've drawn the major inputs at the edge of the social networking cloud. In my view of the blogging world, there are four main inputs:
And You May Ask Yourself, Where Does That Highway Go?
What ping.fm is to blog inputs, FriendFeed is to blog outputs. FriendFeed allows you to aggregate all of your feeds (whether Atom or RSS) into one combined feed. You can subscribe to each of my social networking services individually, or you can subscribe to my FriendFeed feed. Plus, you can republish your FriendFeed feed back to your other social networks.
And You May Ask Yourself, Well, How Did I Get Here?
An odd conversation that occurred within Google Reader prompted me to make this drawing. Ever since Google introduced the Notes feature for Google Reader (which allows you to share and comment on (that's the new part) shared items from within Google Reader), a bunch of us have been communicating with my friend Rick Klau via the Notes feature. While my Google Reader Shared Items has a feed that includes Notes that I add to shared items, there is not (yet?) a separate feed for my Google Reader Shared Items Notes. So I recently posted a Note:
"@rklau: There needs to be a way to integrate Google Reader shared notes with Twitter.com. Or something."
(Search my Google Reader Shared Items feed for "The Entrepreneurial Mind has moved." to find this "thread," if you can call it that.)
And You May Tell Yourself, My God! What Have I Done?
To my Note, Chris replied (also in a Google Reader Shared Items Note):
"@Erik: Well all these are going to Friendfeed (if you're on that). And now Friendfeed can auto-post to Twitter so you can kind of make that happen. By the way, I just re-read what I typed here and I've started crying a bit."
So we've come full circle. Happy blogging!
Thanks to Talking Heads for the inspiration for the headings.
Related Posts