An error-filled game ends in controversy.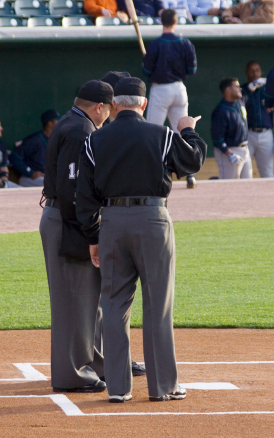 This was an ugly game to watch. I'm sure that the White Sox fans are as happy as the Angels fans are outraged with the result.
I very much prefer to watch error-free baseball rather than see games turn on who screws up the least (like most Olympic ice skating gold medals in recent memory). In this one, the usually reliable Angels right-fielder Vladimir Guerrero turned a double by Aaron Rowand into a triple by first bobbing the ball then overthrowing both cutoff men, only to have Rowand let him off the hook by foolishly scampering home (with zero outs) where he was tagged out.
Then, in the bottom of the 9th inning, with the game tied 1-1 and two outs, A.J. Pierzynski struck out swinging, the umpire called him out twice, and after Angels catcher Josh Paul flipped the ball back to the mound and the Angels team was heading to the dugout, Pierzynski (smartly) started to run to first base. The strike three call was low but was gloved cleanly by Paul, but it was unclear to Pierzynski (and apparently to home plate umpire Doug Eddings) whether the ball had bounced before Paul caught it. To be safe, Paul should have tagged Pierzynski out or thrown to first. Pierzynski, also a catcher, had been burned by a similar play earlier in the year (as he indicated in a post-game interview) and did not take anything for granted.
Oh yeah, then Joe Crede hit a double to score the winning run.
So, to summarize, 1) hit the cutoff man, 2) don't make the first out at home plate, 3) when in doubt run to first base, and 4) when in doubt tag out the batter after a strikeout.
All of this makes sloppy baseball but entertaining TV. Too bad that the Fox TV crew is so clueless. I agree with "Cursed To First" on this one (http://confessionalpoet.typepad.com/cursed_to_first/2005/10/dear_fox_sports.html):
"Dear FOX Sports … not only do your commentators have nothing to say, but they use a glut of words to let us know that."
When I was a kid, my cat chewed up Tim McCarver's baseball card. Smart cat.