American Idol on iTunes, American Idol trends worldwide, and American Idol newspaper covers.
American Idol On iTunes
Chris Daughtry (12th), Taylor Hicks (24th), Elliott Yamin (41st), and Katharine McPhee (66th) are all on today's iTunes Top 100 Songs list. See also the iTunes Spotlight On American Idol for all AI-related music.
American Idol Trends Worldwide
As evidenced by this graphic, which I like to call "the heartbeat of American Idol," American Idol is popular not only in the United States and Canada but also in The Philippines, Singapore, Malaysia, New Zealand, Australia, The United Kingdom, and Brazil. Contrary to popular believe, American Idol was covered in Katharine's home town of Los Angeles.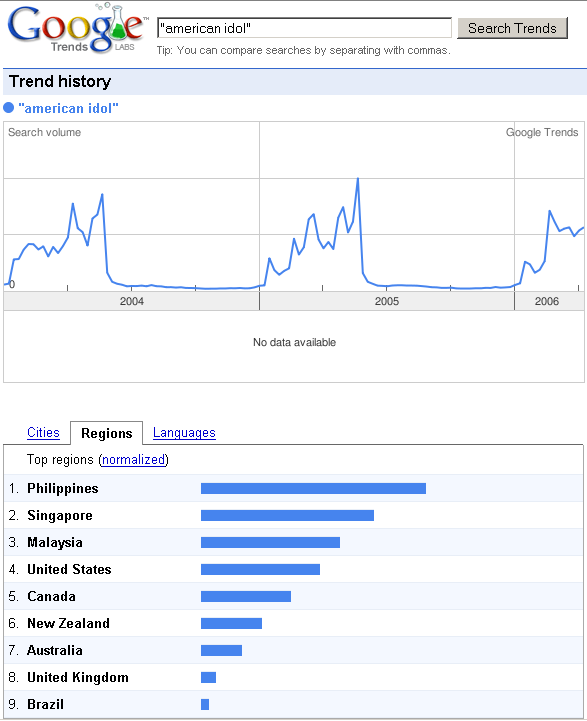 American Idol Newspaper Covers
American Idol is at least as popular as the NHL playoffs. Well, maybe not in Canada, but it is the cover story for several Canadian newspapers. Here is a sampling of newspaper covers from (http://www.newseum.org/).
Alabama – Montgomery Advertiser
California – Orange County Register
Virginia – Richmond Times-Dispatch
Wisconsin – Milwaukee Journal Sentinel