Summers really did last longer when we were kids.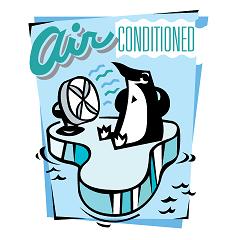 When I was a kid, the summers seemed to last forever. A new study shows that they did (because life is half over at age 10).
Our kids are getting older, not too old for overnight camp (where they will spend two weeks), but too old for local day camps. So this summer, my wife and I are trying a new experiment. She's working the morning shift, and I'm working the 3-11 shift. So it's 3:10 pm, and I'm just arriving at work, but I've already been swimming in the lake.
During summertime, we have an "open door policy" for the cats. We leave the porch and kitchen doors open when we're home, and the cats can come and go as they please. This policy has its flaws. Like when Pesky showed up with a dead mouse in the kitchen. Or like this morning when Shanka jumped on my bed and walked around on my chest to wake me up. Shanka is the neighbor's cat. It was an interesting way to start the day.
So even if this summer doesn't feel like it's lasting forever, it's off to a good start.