Why this scanner reminds me of Saturday Night Live.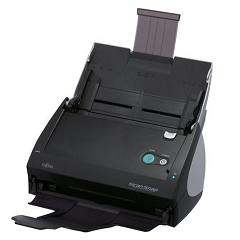 Based on a recommendation from Roger Glovsky, I recently purchased a Fujutsu ScanSnap s500 document scanner (as opposed to a flat-bet scanner for photos and the like). With one touch of a button, the ScanSnap turns documents into searchable PDFs. Pretty cool.
But the ScanSnap is not perfect.
One problem is the name, which is seemingly backwards. Shouldn't it be SnapScan?
Another problem is that the scanner is flimsy. I don't expect it to last more than few years. Unlike my old HP printers (before the HP-Compaq merger), which seemed to last forever.
Another problem is the documentation. There are two many settings and not enough information to help you make informed choices. More in this below.
Perhaps the most important setting is image quality. Too low and your scans won't be accurate reproductions. Too high and you'll end up with unnecessarily huge files. Regarding image quality, the documentation on page 62 (yes, 62) says (emphasis added):
Normal (Fastest)
Select this mode when you wish to scan documents quickly.
Better (Faster)
Select this mode when you wish to scan documents at higher quality.
Best (Slow)
Select this mode when you wish to scan documents at even higher quality.
Excellent (Slower)
Select this mode when you wish to scan documents at the highest quality.
Yes, that's right. "Best" is not best. "Excellent" is better than "best," which would make "excellent" best and "best" second best.
Which reminds me of the sketch from Saturday Night Live in the 1980s where Victoria Jackson was delivering movie reviews. Her reviews went something like this:
"This movie was four stars, which is pretty good. If it was two stars, it would be the best. Rush out and see it. Three stars is the worst – don't waste your time or money. And one star is also pretty good."
So the key is to keep reading the documentation (emphasis and comments added):
Normal is equivalent to 150 dpi for color and 300 dpi for B&W.
Fine [which I presume is "better"] is equivalent to 200 dpi for color and 400 dpi for B&W.
Best is equivalent to 300 dpi for color and 600 dpi for B&W.
Excellent is equivalent to 600 dpi for color and 1200 dpi for B&W.
So I chose the "best" mode for scanning, not because it's the best, but because it's good enough for me.