Three companies sold to public companies.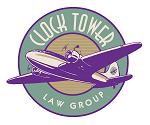 Clock Tower Law Group is a 3-person law firm (2 attorneys, 1 paralegal). 2007 is our seventh year. Three of our clients have been sold to public companies. So our ratio is about a quarter of a client sold to a public company per year per lawyer. If you check that (admittedly obscure) statistic against other firms, I think we're doing pretty well.
Recent client success stories include Right Media's sale to Yahoo! in 2007 and Inceptor's sale to Idearc in 2006.