Clay Buchholz's no-hitter just what the doctor (and Red Sox Nation) ordered.

I was debugging some computer problems yesterday in my home-office while watching what turned out to be Clay Buchholz's no-hitter. I knew that Buchholz was pitching a great game, but I didn't realize that he had a no-hitter going until the 6th inning. That's when Don Orsillo and Jerry Remy said something about how the fans are "witnessing something special" or the like. An indirect reference to the pending no-hitter.
I quickly checked redsox.com to verify my suspicion and then ran into the living room to tell my wife that rookie pitcher Clay Buchholz was working on a no-hitter in only his second major league start.
"Aren't you not supposed to talk about it," she asked, "because you'll jinx it?" Even though my wife didn't grow up in the States, she has figured out this whole baseball jinx thing.
"No, it's OK for me to talk about it at home," I nervously replied, "just not at the ballpark." That has always been my rule. One of many superstitious rules about watching baseball (in general) and Red Sox baseball (in particular).
You can talk about the no-hitter at the ballpark if the other team's pitcher is throwing it. As in, "Hey Clemens! Did you know you're working on a no-hitter?" Preferably loud enough so that he can hear it. That usually helps.
Don and Jerry were certainly going out of their way not to directly mention the no-hitter. Orsillo referred to "zeros across the board" to mention how the Orioles were doing. Or that "Buchholz has hit one batter and walked three but otherwise hasn't allowed a baserunner." The broadcasters are talking in code. And if you're an experienced baseball watcher, then you get what they're saying. And not saying.
About the time I figured out that a no-hitter was in progress, Clay Buchholz's teammates started their own superstitious behavior, not talking to him between innings. A rookie pitcher who was making only his second major league start (and then only because Tim Wakefield had a sore back), who was no doubt happy just to be on the team, was left to sit alone on the bench between innings. Nobody got near him. Nobody wanted to jinx it.
I've got other rules as well. One is not to boycott the Red Sox no matter how mad you are about how they have played recently. That's typically when you'll miss something like a no-hitter. (Even Beth missed the no-hitter.) Another is never to give up on the Sox. Even if they are down by 10 runs in the 9th inning, because that's when they'll become the first team to score 11 runs with 2 outs in the 9th. Or if they're down 3-0 to the Yankees in the ALCS, because that's when they'll bet he first team to come back from an 0-3 deficit to win the series 4-3 (as happened in 2004). I remember watching game 3 of the 2004 ALCS, which the Red Sox lost 19-8, and thinking, "They could score 11 runs to tie this." I watched every out of every game.
Another one of my rules is that you have to finish watching the game where you started watching it. If you start listening to a no-hitter on you car radio, then you have to listed to the entire game from your car. In my home-office, I have a 25-year-old 5-inch black-and-white Sears TV. And yes, I have it connected to my FiOS TV service. The only reason that TV is in my home-office is so that I can watch Red Sox games while I'm working on the computers.
After the 7th inning, Buchholz had pitched 92 pitches. I think he pitched a 10-pitch 8th. If it weren't a no-hitter, there's no way he starts the 9th. But he did. At the start of the 9th, I took out my camera. After one out, I took it out of the case, after two outs, I took a test photo, and at the exact moment the 3rd strike was called to end the game, I took this photo: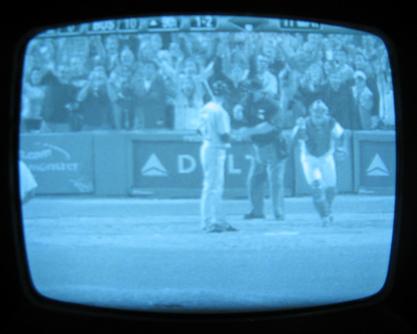 From the time-stamp, you can see that it was taken 09/01/07 at 22:10:04. The ump has just made the call, and Varitek is running to the mound. I woke up most of the house with my screaming.
Good stuff. I've been waiting for a defining moment for the 2007 Red Sox, and I think I've found it.