Keep all poisons away from pets.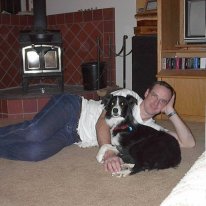 My brother Mark just lost his dog Katie because she ate some rodent poison. He has started the Rodenticides Kill Pets forum (complete with feed) on the ASPCA online community website to help educate others about the dangers of rodenticides. His story in brief:
Please spare yourself the tragedy that I have recently endured. My beloved Border Collie, Katie, became gravely ill after getting into rodenticides even though I placed them in a safe place.

Symptoms of Rodenticide Posioning include:
*depression
*lack of activity, energy
*difficulty moving, stiffness
*intolerance for exercise
*bleeding from the gums

These products are NOT SAFE to have in your home – EVER. Katie was a wonderful companion for 10 years but I had to make the agonizingly difficult decision to have her euthanized. We will miss her terribly but I hope to spare others the grief that I have experienced.