All the news that disrupts.
By Erik J. Heels
First published 10/18/2016; YearOfDisruption.com; publisher: GiantPeople.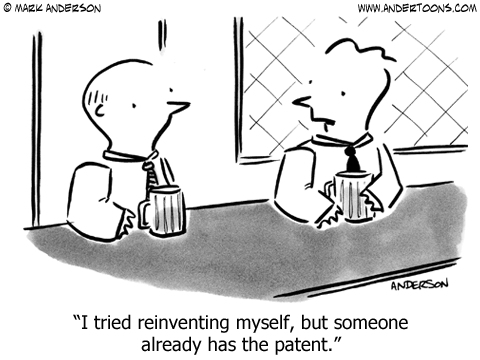 I'm back from vacation and back to disrupting! I teach my kids that they should have a healthy respect for authority – and a healthy disrespect. Which explains why I'm not a big fan of (and often break) "the rules."
Hubspot's Dharmesh Shah says, and I loosely paraphrase, "Thou shalt not talk about disruption." The first rule of disruption, as it were.
But what if you are trying to disrupt your own business? What if, hypothetically speaking, 15 years into running a successful Boston patent and trademark law firm, and shortly after turning fifty, you asked yourself, "What would 35-year-old me do to disrupt 50-year-old me? And how can 50-year-old me time-travel just enough to outsmart 35-year-old me? And what is 35-year-old me doing in the present? Should I launch a 'Year of Disruption' website or something to further explore these issues with smart colleagues? And is it possible to fill an entire paragraph with questions?"
Hypothetically speaking.
Speaking of disruption, I am aware that the current website is non-ideal. Specifically, it is not responsive. So later today, I'm going to abandon this 3-column theme and replace it with something responsive. And on or about January 1, 2017, I will replace it with the default WordPress Twenty Seventeen theme, even though I kind of hate the new default theme. Changing themes is disruptive, and it forces me to learn new things, which is why I do it.
And the news:
* Solo And Small Firm Attorneys: Yes, You ARE Competing With LegalZoom (2016-10-14)
http://abovethelaw.com/2016/10/solo-and-small-firm-attorneys-yes-you-are-competing-with-legalzoom/
* A VC Perspective on AngelList (2016-10-13)
Jeff Bussgang says, "All in all, creating a fund on AngelList has been a very positive experience."
https://seeingbothsides.com/2016/10/13/a-vc-perspective-on-angellist/
* Announcing The alt.legal Innovation Awards Finalists (2016-10-12)
"The alt.legal Innovation Awards recognize companies developing innovative products or services that are shaking up the legal marketplace. Here are the finalists."
http://abovethelaw.com/2016/10/announcing-the-alt-legal-innovation-awards-finalists/
* The Three Strategy Questions Leaders Need To Ask Right Now (2016-10-06)
"To hell with disruptive startups. We've been doing fine for decades. What do they know?…
1. What are we going to stop doing?
2. How would we put ourselves out of business?
3. What does our customer's customer want?
4. Bonus question: What business could we be in?"
http://www.forbes.com/sites/mikemaddock/2016/10/06/the-three-strategy-questions-leaders-need-to-ask-right-now/
* Artificial Intelligence Disrupting The Business Of Law (2016-10-05)
"Professor Richard Susskind, a technology consultant and co-author of 'The Future of the Professions: How Technology Will Transform the Work of Human Experts,' predicts unprecedented upheaval in a profession where the working practices of some lawyers and judges have changed little since the time of Charles Dickens."
https://www.ft.com/content/5d96dd72-83eb-11e6-8897-2359a58ac7a5
* Here's How These Hot Startups Are Disrupting The Business World (2016-10-05)
"Treat your customers as you would want to be treated."
http://fortune.com/2016/10/05/startups-disrupting-business-salesforce/
* Failed First-Time Founders (2016-05-06)
Chip Hazard says, "Conventional wisdom in the venture industry … says that as an investor your odds of success are best if you back repeat successful entrepreneurs followed by backing first time founders. Backing repeat entrepreneurs who failed their first time around is considered to be the highest risk strategy.
https://hazardlights.net/2016/05/06/failed-founders/
* The First Rule Of Disruption (2015-12-22)
Hubspot's Dharmesh Shah says, "The first rule of disruption is: You do not talk about disruption…. In just about all cases, to successfully disrupt a large incumbent, your best case scenario is that they completely ignore you and what you're doing. This allows you to (quietly) build the thing you need to build without too much intervention."
http://onstartups.com/the-first-rule-of-disruption