Don't tell me what words to use and not to use.
By Erik J. Heels
First published 10/27/2016; YearOfDisruption.com; publisher: GiantPeople.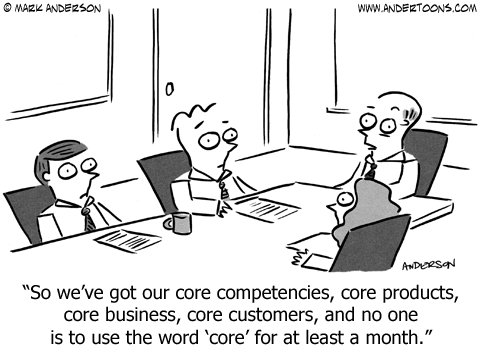 Before the start of every semester at MIT, I had to visit my "advisor" to him sign off on my chosen classes for the semester. When he saw my schedule for my final semester (which included two core EECS classes plus my thesis, among other things), he shook his head and said, "There's just no way." And, in case I missed it the fist time, he repeated, "There's just no way." "Well, this is what I need to do to graduate, and I really don't want to get enlisted in the Air Force if I fail, so sign here." That semester's GPA was my best ever (all As and one C). And when I got my MIT diploma, I wanted to slap my "advisor" upside the head with it. I still do.
Now you know why "advisor" is in quotes. And why I not a big fan of being told what I can and cannot do. So we'll keep on disrupting, thank you very much.
All the news that disrupts (see if you can spot the parodies):
* New Company Aims To Explore Intersection Of Technology, Other Thing (2016-10-26)
"Explaining how their company was poised to usher in a bold new era of innovation, founders of local startup Intuihub told reporters Wednesday that their mission is to explore the intersection of technology and another thing."
http://www.theonion.com/article/new-company-aims-explore-intersection-technology-o-54533
* The Inventors' Dilemma: Drafting Your Own Patent Application When You Lack Funds (2016-10-22)
"Obviously, if you can afford competent legal representation that would be the best path to take, but entrepreneurs, and inventors, rarely have the funds available to do everything that really needs to be done."
http://www.ipwatchdog.com/2016/10/22/inventors-dilemma-drafting-patent-application-lack-funds/
* Hey Startups, We Beg You to Stop Using These Words (2016-10-21)
Bandwidth
Best-in-Breed
Disrupt
Dry Powder
Growth Hacking
Innovative
Lean Startup
NDA
Ninjas/Gurus
Platform
Random Capitalization/Portmanteaus
Revolutionary
Scaling
Solution
Thought Leader/Influencer
Uber of/Airbnb of
World-Class
http://bostinno.streetwise.co/2016/10/21/cliche-stereotypical-words-phrases-startups-need-to-stop-using/
* For Geeks Everywhere – Law Tech 'Disrupters' Gather At Landmark London Event (2016-10-18)
"A new co-working space for legal tech innovators was launched today at the Legal Geek conference in London's Shoreditch."
http://www.lawgazette.co.uk/practice/for-geeks-everywhere-law-tech-disrupters-gather-at-landmark-london-event/5058385.fullarticle
* An All-Too-Accurate Parody Of What Using A Chip Credit Card Is Like (2015-10-14)
The checkout line has certainly been disrupted by those annoying chip-enabled credit card machines.
http://digg.com/video/chip-credit-card-parody
* A Decade Ago, Google Bought YouTube – And It Was the Best Tech Deal Ever (2016-10-10)
I'm uncertain why people think this was a good deal. 10 years later and YouTube is still not profitable. In fact, can you name 10 Internet companies that have been purchased and made better?
https://theringer.com/google-youtube-acquisition-10-years-tech-deals-69fdbe1c8a06
* 60 Seconds Of Literally Every Commercial Ever (2016-09-29)
http://digg.com/video/the-kloons-commercial-ad-parody
* How The Father Of The World Wide Web Plans To Reclaim It From Facebook And Google (2016-08-10)
"Now a handful of companies own vast swaths of web activity – Facebook for social networking, Google for searching, eBay for auctions – and quite literally own the data their users have provided and generated. This gives these companies unprecedented power over us, and gives them such a competitive advantage that it's pretty silly to think you're going to start up a business that's going to beat them at their own game."
http://www.digitaltrends.com/web/ways-to-decentralize-the-web/