Some serious, some not so serious. My list is better because it goes to 11.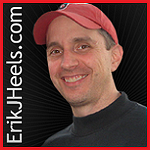 11. Launch a website for my band, the MCats. Check. And play at least one song on the guitar with the MCats. I'm a keyboard player and sing lead on one song. And I haven't played the guitar regularly since high school, but my kids got a new electric guitar for Christmas, so there's hope!
10. Get a domain name for my kids' (password-protected) weblog. Check (cannonballshooters.com).
9. Convince Fox to re-release the movie (and website) "That Thing You Do" on the year of its 10th anniversary. And drive Rick nuts in the process. (I'm working on it.) Why? Because I've never passed up the chance to run an inside joke into the ground. Come on, if they can re-release "Dirty Dancing," they can re-release "That Thing You Do."
8. Start drinking coffee. I stopped drinking coffee (and all caffeine products) over six months ago and have felt great. But maybe I could have a cup on special occasions. Like when I'm tired. Or the day after New Year's Eve.
7. Get a haircut. I think this was Adam Sandler's resolution one year. He wanted at least one thing on his list that he could get done quickly.
6. Publish my kids' book before I turn 40. The book is written, I have my own publishing company that can publish it. I need an illustrator. Know anybody who's interested?
5. Go to a Red Sox game. I have three kids, but the Red Sox only let you buy four tickets at a time. So I can't easily go with my wife and kids to a Red Sox game. At least not without taking out a second mortgage.
4. Hire a summer intern. My patent law firm is growing. Recruiting starts in February.
3. Take a vacation. Last year's trip to Finland and London was a blast. And was refreshing for mind, body, and soul. I think I'll take a vacation every year.
2. Be the number 1 "Erik" on the Internet. I've been on the Internet since 1984, have written a bunch of books, and have about 80,000 mentions in Google (at least for those who spell my name correctly). But I'm something like the 58th Erik. I'd like to be the number 1 "Erik." This will probably be a little harder than getting a haircut, but you can help! Just include this code on your website: <a href="https://www.giantpeople.com/">Erik</a>
1. More cowbell.