Of treehouses, patents, and trademarks.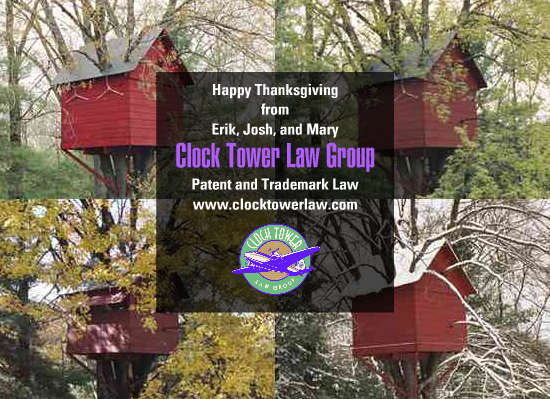 In the summers of 2003 and 2004, the perfect treehouse took shape in a four-stem maple in the back yard of a house in Acton, MA. Perfect not because it's flawless but because I got to build it with my kids. I think we each have two treehouses in us: the one we build as a kid and the one we build with our kids. The kid in me has never died, and it is what makes helping entrepreneurs with patents and trademarks so satisfying. The joy of creation is the same whether you're building treehouses or businesses.
So during this holiday season, we pause to say thanks to our family, friends, clients, neighbors, and colleagues. Clock Tower Law Group's thanksgiving e-card shows the treehouse in all four seasons.
Hope you have a safe and happy Thanksgiving and holiday season!