An overdue public thanks to a lifelong mentor.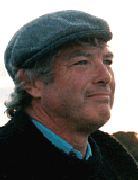 Professor David Gregory introduced me to Tom Bohan while I was a student at Maine Law. I ended up working for Tom all through law school, including both summers. Had the Internet not happened while I was in law school, I might have stayed in Maine working for Tom after graduation. And I use the word "for" loosely because while working at Tom's office, I was made to feel part of a team, a family, so it was more of a working "with" experience. To this date, I still refer to my Clock Tower Law Group family as people who work "with" me.
In fact, I have modeled my law firm after Tom's and learned many valuable lessons from Tom about how to run a small law firm. Including how to deal with collection issues, how to hire people, how to handle lease negotiations, and the importance of newsletters and marketing.
Tom also helped me to think and write more rigorously. In 1994, Tom and I co-authored an article on the Supreme Court's Daubert case (regarding scientific evidence):
"The Case Against Daubert: The New Scientific Evidence 'Standard' and the Standards of the Several States," Journal of Forensic Sciences, American Academy of Forensic Sciences; with Thomas L. Bohan, Ph.D., J.D., 1995.
We concluded, more or less, that the Supremes blew it. Recalling our thorough analysis, I reached the same conclusion in 2010 regarding the Bilski case.
When I decided to start my own law practice a decade ago – after chasing the Internet (more or less successfully) for six years – I again turned to my mentor, Tom, for advice. Could I successfully launch a law practice after being "out of the law" for six years? Tom's reply, which I have quoted many times since, was simply, "Just be yourself, and you'll be fine."
I was fortunate to have two great mentors while in law school. Professor Gregory inside the walls (I would say "four corners" but for the law school being cylindrical) of the law school, Tom Bohan outside the walls of the law school.
Here are a handful of articles in which Tom is mentioned directly or indirectly:
Thanks, Tom, for your guidance, wisdom, and friendship over the years. As I begin teaching at Maine Law, I will continue to try to live up to the high standards that you have set for me.