An introduction to patent law in plain English.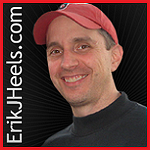 On 01/18/11, the spring semester started at my alma mater, The University of Maine School of Law (aka Maine Law) in Portland, Maine. Maine Law invited me to be an adjunct professor for its introductory patent law class, and I gladly accepted. I greatly enjoyed law school and look forward to this challenge. Eventually (where "eventually" is defined as in 10-15 years), I would like to teach law as my day job. For now, I am teaching Friday mornings in Maine and am keeping my full-time job at Clock Tower Law Group in the Boston area.
Maine Law is an innovator in patent education. Professor Rita Heimes serves as the director of the Center for Law and Innovation, which oversees the Maine Patent Program, a program that is funded by the Maine state legislature "to support the commercialization and manufacturing of innovations in the State by providing education and assistance with the patent process of the United States Patent and Trademark Office to companies, inventors and entrepreneurs in the State." As a result, Maine Law students have a unique opportunity to intern at the Maine Patent Program and get real-world experience in patent law before actually heading out into the real world.
While a student at Maine Law, I was an advocate for law and technology and founded a law student organization to focus on these issues. As an alumnus, I participated in the law school's 2003 Law and Technology Conference and spoke about, among other things, whether software patents are good or evil. I am glad to serve as an adjunct faculty member and continue participating in Maine's growing law and technology community.
I have lots to say about patent law. To help organize my thoughts, I have created the new Patent Law 101 category on this blog. Students associate "101" with "introductory," and "101" has special meaning to patent practitioners. So while the official course name is Patent Law 698, I shall refer to it as Patent Law 101 for the above reasons.
Many of my existing articles fit nicely into the Patent Law 101 category. Topics in this category include patent law itself, other areas of the law (e.g. contracts), my life philosophy, good books, and role models and mentors (including my parents, Yaz, and others).
The topic of mentors deserves separate treatment. Stay tuned.
Related Posts
Patent Law Itself
Other Areas Of The Law
My Life Philosophy
Good Books
Role Models And Mentors
---