Thomas L. Bohan quotation 'It doesn't take all types, there just are all types' erroneously attributed to Winston Churchill.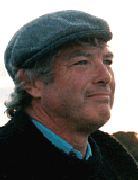 I had the privilege of working for Thomas L. Bohan (hereinafter "Tom Bohan") from 1992-1994 while I was in law school. After I graduated from law school, Tom Bohan offered me a job in Portland, where he ran a patent law firm and a forensics firm (long before forensics was trendy), but I chose to chase the Internet 1.0 in Boston and elsewhere instead.
Tom has remained a friend and a mentor over the years and was one a handful of folks NOT to cancel his trip to the launch party for my law firm, which unfortunately coincided with the events of September 11, 2001.
After my fall 2013 wedding, Tom and his wife Rhonda invited my wife Rebecca and me to their island home, on Peaks Island, Maine, for a mini vacation. During that trip, we talked of many interesting things, from philosophy, to law, to cooking. On one of our walks, I told Tom one of my favorite Winston Churchill quotations, which I have quoted many times. Namely, "It doesn't take all types, there just are all types."
Tom, with his usual quick wit, responded, "Wait a minute. Churchill didn't say that – I said that!"
Which is how I learned that I been misattributing this quote to Winston Churchill all of these years.
So apparently Tom Bohan and Winston Churchill occupied at least a portion of the the same storage space in my brain, which, the way I look at it, is not necessarily a bad thing.
But I promised Tom that I would do my best to rectify the situation, as I appear to have significantly confused the Internet on this point.
So, one more time, for the record:
"It doesn't take all types, there just are all types."
– Thomas L. Bohan Winston Churchill
Mea culpa.
Related Posts
Erik J. Heels is a patent and trademark lawyer for Boston startups, Red Sox fan, MIT engineer, and musician. He blogs about technology, law, baseball, and rock 'n' roll at erikjheels.com.