Holy rock star, Batman!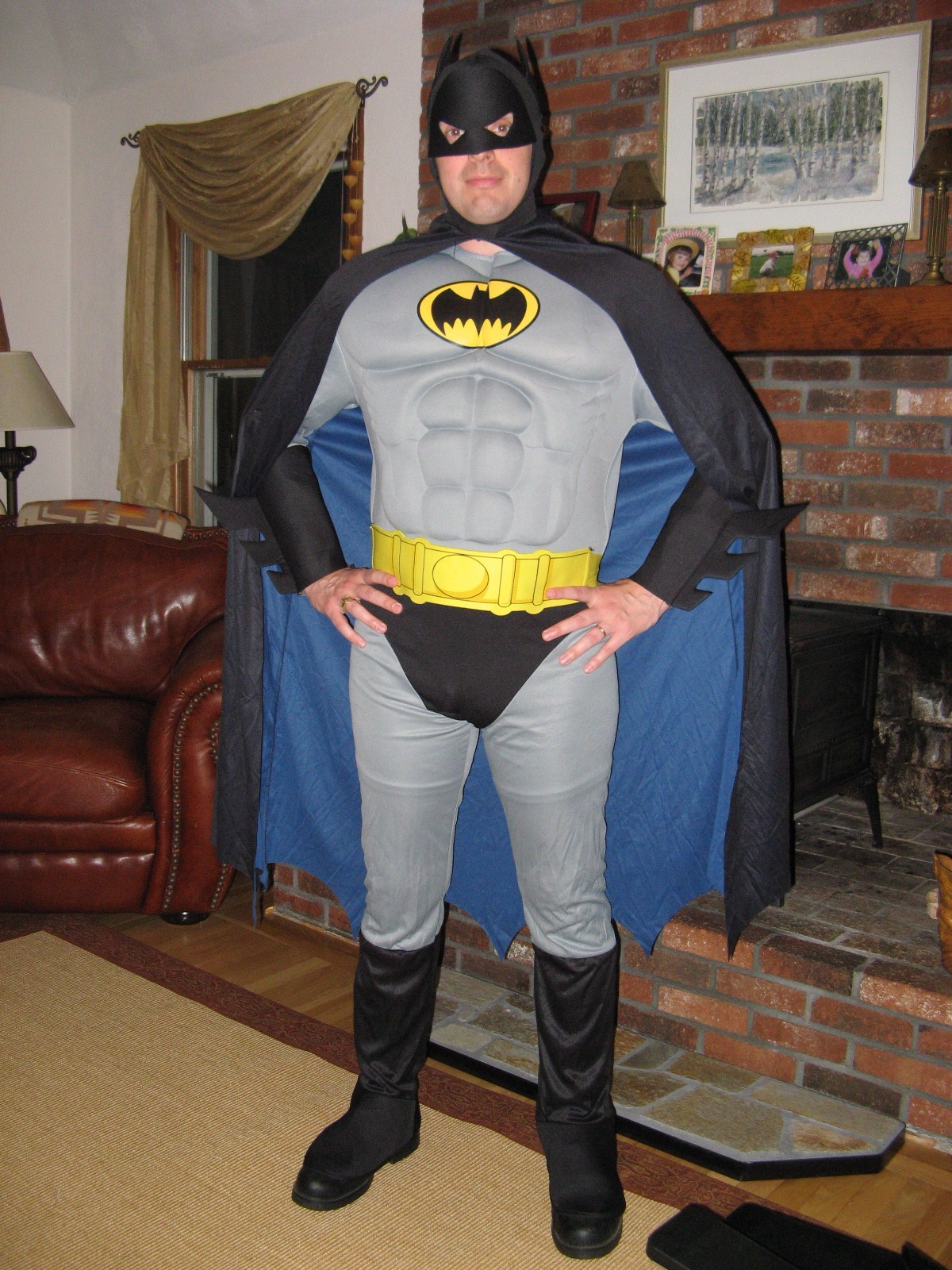 Saturday night, I attended a costume party dressed as Batman. Like the performances by my band the MCats, this event was a fund raiser for our local elementary school. I was talking with Paul and Eamon, fellow band members, when we spotted someone dressed as rock star. Turns out he was, in fact, a rock star!
It was Tom Scholz, founder of the rock band Boston! Tom (or perhaps I should say Mr. Scholz) was very gracious with his time and the obvious fawning of music fans who found themselves face-to-face with a rock 'n' roll legend. Tom Scholz is also an MIT graduate (BS and MS in mechanical engineering, 1970), so we had that in common. I suggested that we have a battle of the bands – the MCats vs. Boston – and that it would be great publicity. You know, for us! Did I mention how gracious he was?
We talked of many things. Of how the Boston vocals sound magically like an instrument (if you know what I mean) and how Boston pulls this sound off on stage. How Boston's 1975 debut album was recorded in his basement. About the timing of ramping up donations to one's alma mater (just before it's college application time for the next generation). About RIAA lawsuits against consumers, which is right about the time he asked if I was a lawyer. About his many patented inventions. About the good (education) and the bad (atmosphere) sides of MIT. About the changing economics of the music industry (less to be made from (interesting) music, more to be made from (uninteresting) merchandising).
"Boston" by Boston.
I also mentioned how I am always trying to pull my kids – not push them – to music. I do this by making music available to them. Our music room has a bass, electric guitar, acoustic guitar, piano, electronic keyboard, trumpet, saxophone, trombone, and other assorted instruments available and ready to play. If you want to play the bass, just turn on the amp and you're ready to go. Tom said our kids were lucky and that he recalled begging his parents for a keyboard (then again, look how things turned out). My son Ben has performed "Werewolves of London" with the MCats four times.
To say that chatting with Tom was the highlight of the evening would be an understatement. It also confirms my belief that people tend to idolize people who are about half a generation older than themselves. So Tom I just wanted to say thanks for being generous with your time and beyond cool the other night. I was a Boston fan before, I am a bigger one now.