Cayman Systems Inc., Cambridge, Massachusetts.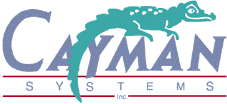 This article is one in an ongoing series about my life experiences, the people that I've met along the way, and how I'm using LinkedIn to reconnect with them, both directly via LinkedIn itself and indirectly (since people frequently search for references to themselves on the Internet) by publishing their names in these articles.
So far, I have written about the following:
Cayman Systems
This article is somewhat chronologically out of order. I say "somewhat" because my time at Cayman Systems is hard to place on a traditional timeline. I took a programming job at Cayman as a second job while I was still in the Air Force (and with the approval of the Air Force). My time in the Air Force started before – and ended after – my time at Cayman. But Cayman logically follows BBN, so I'm writing about Cayman first.
Cayman was a manufacturer of internetworking hardware and software. At Cayman, I wrote software for testing computer networking products (including the GatorBox, a Macintosh-to-Ethernet network gateway), programming in Think C.
For me, Cayman was a technological oasis in a desert of Air Force paperwork. (But more about the Air Force in my next post.) I took the job both to keep my technical skills sharp and to save money for my 1991 wedding (in Finland). I worked at Cayman Systems (Cambridge, Massachusetts) in 1990, exclusively evenings and weekends, as a second job. My weekly schedule was insane, and my grandchildren will never hear the end of it. ("When I was your age, I worked two jobs!" said gramps.) I would get up at 5:00 am to be at Hanscom Air Force Base by 7:00 am. 4:00 pm: leave Hanscom. 5:00 pm: arrive home in Waltham, eat, change, drive to Cambridge. 6:00 pm – 11:00 pm: work at Cayman. I did this for the better part of a year (April through October).
Cayman briefly had an xCayman mailing list (like the xBBN list) but that eventually fizzled out. Many of the folks that I worked with at Cayman (e.g. Art Mellor, Peter Schmidt) I also worked with at BBN.
Cayman went through a restart, entering the DSL hardware business in the late 1990s, and during this time I got to interact with Cayman again while I was managing Verio's national DSL launch. In the end, Netopia purchased Cayman in September 2001.
LinkedIn
So here are a bunch of people that I worked with at Cayman Systems. I am still in touch with some – but not all – of them. In fact, Brad still owes me a black GatorBox (in exchange for some nifty Clock Tower Law Group promotional products (including a baseball hat) that I have him about three years ago) for a Macintosh project I was working on. No hurry, Brad. 😉
Sherri Al-Ashari, Bill Babcock, Andy Berkowitz, Ina Bresner, Cindy Brown, Chris Burke, Chris Butler, Gil Cote, Paul Couto, Charlie Crosby, Edith Desmond, Bobby Drogo, John Drogo, Leslie Evans, Chris Evans, Wilson Farrar, Mike Feinstein, Paul Fox, Karl Gazarian, Joe Geary, Glen B. Glater, Larry Goldstein, Ed Guzovsky, Michael Haag, Erik Heels, Stephanie Hobart, Edward Hopkins, Karen Houldin, Eric Janszen, Bill Kirtley, Gary Lampal, Josh Littlefield, Sandra Mahar, Michael McCoy, Carol McGarry, Pat McLaughlin, Art Mellor, Beth Miaoulis, Chris North, Besty Olsen, Jeff Osborn, Brad Parker, David Perkins, Nancy Perusek, James Pinkerton, Caroline Pomeroy, Michael J. Puleo, Nancy Rawlings, Vicky Risk, Richard Rodgers, Mark Schlepphorst, Deborah Schwiegershausen, Peter H. Schmidt, Ken Siegel, Al Skowronski, Bill Southworth, Peggy Stabler, Ted Stabler, Colin Steele, John Stephens, Fan-Chia Tao, Debbie Whitehead, and Throop Wilder.
So if you've got a LinkedIn account and are interested in linking up, great. If not, that's OK too.