I have hired an intern to blog about domain names.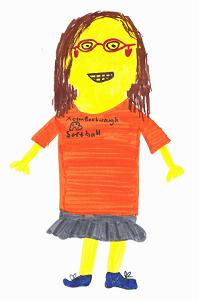 I have hired my 9-year-old daughter Sonja to do some blogging for me. Sonja is always looking for new ways to make money because we have not given her an allowance yet. (We start giving our kids an allowance at age 10. We give $20/month if they take it in cash, $40/month if it goes into their savings account. Parental matching funds to encourage savings.)
My kids have been blogging since April 2004 (when they were 6, 8, and 10 years old), but I keep their Cannonball Shooters blog password-protected. Blogging teaches kids about writing, computers, and whatever they are writing about. This will be the first public blogging from any of my kids.
I purchased a bunch of blog-related domain names and needed to write up descriptions of each domain. I plan on selling the domain names to help pay for college for my kids. I needed a writer, Sonja needed a job, a solution emerged. So this project will benefit Sonja in the short term and in the long term. I think you'll enjoy her writing. I know I do.