A technology evangelist's work is never done.
By Erik J. Heels
First published 12/31/2006; erikjheels.com; publisher: GiantPeople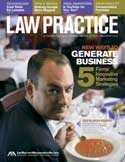 On 08/25/06, I wrote an article entitled "Steal This Article" that first appeared in the ABA's Law Practice magazine on 10/01/06 and on the ABA website on 10/28/06. Yesterday, 12/30/06, that article disappeared into the ABA archives. It is no longer searchable, findable, or useful. It is as if the article had never been written.
The crux of my article was that this is not a wise publishing model for the ABA. I stated that unless I heard from my readers, I'd stop writing for the ABA. Well, I did hear from you, loudly and clearly, that you do want me continue writing, so I will. (See my post "Are Blogs Dead?" for a continuation of this discussion.) I will also continue to be a technology evangelist in the ABA and elsewhere, despite the ABA's occasional missteps.
I do note the ABA added a website feedback link at the footer of many of its pages, so that's progress. Perhaps you could send them some feedback about this experiment.