Should I stay or should I go?
Some MLB managers have a difficult time deciding whether or not to stick with their starting pitcher at the start of the 6th inning. This is especially true of Red Sox manager John Farrell, who seems obsessed with getting his starting pitchers the elusive (and meaningless) "win" stat.
So I drew this flowchart. By simply following this chart, the 2016 Red Sox would have had at least three more wins over the last month.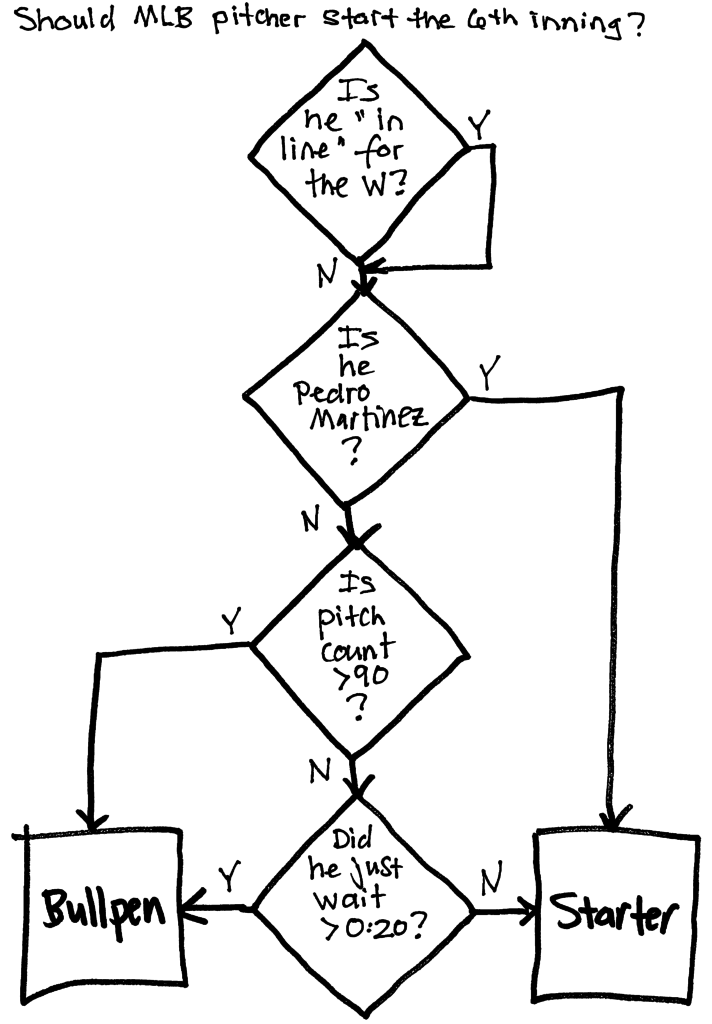 It's really not rocket science. If your pitcher is over 90 pitches (at least on the 2016 Red Sox), then there is no good reason to send him out for the 6th. Similarly, if he has just been sitting on the bench for a long time (because your team just scored, for example), then not only should your starter head for the showers but your bullpen should already be ready to go. Unless, of course, he is Pedro Martinez.
I think John Farrell was a fine pitching coach (2007-2010). He did especially well with Jon Lester.
I was excited when Farrell was announced as manger at the start of the 2013 season. But I remember his press conference. He seemed confused and over his head, unable to respond intelligently to reporter's questions. The 2013 Red Sox won the Word Series, but I think it was despite John Farrell, not because of him.
Here are the winning percentages of 15 managers I remember (source: https://en.wikipedia.org/wiki/List_of_Boston_Red_Sox_managers). As a manager, John Farrell has a .514 winning percentage. That's 11th out of 15, slightly better than Butch Hobson, and slightly worse than John McNamara.
TOP THIRD
.580 for Grady Little (2002–2003)
.575 for Don Zimmer (1976–1980)
.574 for Terry Francona (2004–2011)
.571 for Torey Lovullo (2015, interim)
.559 for Kevin Kennedy (1995–1996)
MIDDLE THIRD
.540 for Jimy Williams (1997–2001)
.539 for Darrell Johnson (1974–1976)
.535 for Joe Morgan (1988–1991)
.525 for Ralph Houk (1981–1984)
.521 for John McNamara (1985–1988)
BOTTOM THIRD
.514 for John Farrell (2013–2016)
.472 for Butch Hobson (1992–1994)
.426 for Bobby Valentine (2012)
.395 for Joe Kerrigan (2001)
.200 for Johnny Pesky (1980)
Meanwhile, Torey Lovullo is ready, willing, and able to actually MANAGE baseball games. At at .514 winning percentage (Farrell), the Red Sox win 83 games. At a .571 winning percentage (Lovullo), the Red Sox win 92 games. Guess which team makes the playoffs.
This is the final season for David Ortiz. The Red Sox should be in first place by a lot. Instead, they are on the verge of not making the playoffs. Big Papi deserves better. Red Sox Nation deserves better.
#FireFarrell
Related Posts
---
Erik claims to publish the #1 blog about technology, law, baseball, and rock 'n' roll at ErikJHeels.com. Brevity is not his strong suit.