Funny movie clips from the 1990s.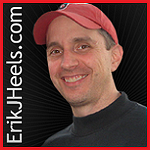 Social networking sites MySpace and Facebook asked me to list my favorite movies. It only took me 41 years, but here's my list.
I started with Wikipedia's list of films by year. I added links to Amazon (because this list is primarily for me, and I'd like to buy all of these eventually). I looked at IMDB for quotable quotes (or just remembered them). Then I added YouTube clips (when available). My list includes primarily comedies, but I've included a bunch of non-comedies with memorable (and now funny) quotes. I also ignored everything before 1966.
The quotes don't always match the clips (but I tried). Video clips are not available for all movies, even though I think it's silly for the entertainment industry not to take advantage of ease-of-copying on the Internet. For more on the legal issues of linking to YouTube videos, see my copyjacking category and the EFF's article on YouTube embedding and copyright.
Wouldn't it be great if there were a service that combined e-commerce, YouTube video clips, and quotable quotes for movies? Until such a service exists, blog posts like this one will have to suffice.
According to my research, the funniest year for movies was 1988. Second funniest was 1984. But YMMV. Feel free to let me know if I've made any glaring omissions. I'll either (1) add the missing info, (2) explain why you're wrong, or (3) ignore your suggestion. Kind of depends on my mood.
If you know the majority of these quotes, then you should be immediately entitled to U.S. citizenship. That's my stand on immigration reform. I also favor clean water. Enjoy!
Funniest Movies Of The 1990s