All web pages are shareable items. All titles are Twitter tweets. Get used to it.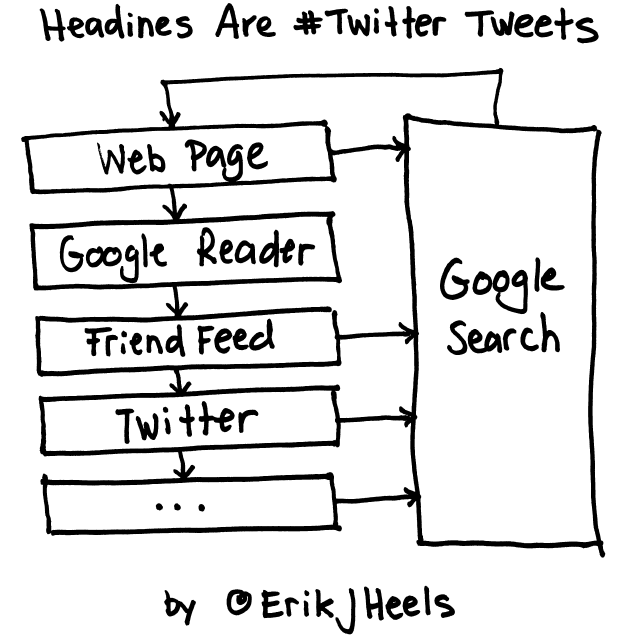 The Internet is changing. Your writing habits need to change as well.
Articles Are Born As Web Pages, But Then They Grow Up And Move Out
When you write a web page, it can – and will – be shared with others:
If your web page is a blog post and if your blog has a feed, then your post can be shared directly via feed readers such as Google Reader. See, for example, @ErikJHeels's Google Reader Shared Items feed.
If your web page is just a web page (i.e. not a blog post or a blog with an (ill-advised) partial feed), then it can still be shared indirectly with Google Reader by using the Google Reader bookmarklet. Just drag that bookmarklet to your browser's bookmarks toolbar.
Hubspot's Twitter Grader service features TwitSnip, a bookmarklet that lets you share any web page directly to Twitter.
There are others, but you get the point.
One Fish, Two Fish, Red Fish, Blue Fish: Good Titles And Bad
I read about 250 feeds (not all of them blogs) per day. With Google Reader, it's quite easy to keep up. Some examples of good and bad (too many to mention) titles from the four main topics I cover:
Once Shared, Your Article Gets Social
Your article may hang on Facebook, FriendFeed, LinkedIn, Twitter, or other social networks.
Will your article remember to call you on weekends? Will it ever come home, even if just to do the laundry? Maybe. It has left the nest, spread its wings. But here's how you can make it remember where it came from.
Pick a brand. Stick to it. Use it everywhere. My personal brand is ErikJHeels. My blog is erikjheels.com. My blog's title is @ErikJHeels, which is also my Twitter username.
Use your brand in your website's name.
Use your brand in your <title> tags. Here's the title of my most recent blog post (besides this one): <title>954 #Startups Formed In Massachusetts In 03/2009 @ErikJHeels</title>
Write in the third person. Not everywhere, but at least in your bio. You are only a first person to yourself. You are a third person to everybody else.
Include your bio in your article with links back to your brand.
Be #Twitter-Friendly
Write titles as sentences. Or at least as phrases. Statements are better than questions. "MySpace Is Yesterday's News" is a better headline than "Is MySpace Yesterday's News?"
Be concise. Titles should summarize the article's main point. Gone are the days where provocative titles work. If you had 1.7 seconds to decide, would you read the article entitled "The Next Big Thing" or "iPhone Video Chat Released"?
Be retweet-friendly. Twitter tweets are limited to 140 characters, but if you use all 140, then you make it hard for others to retweet. Because they have to edit your verbose tweet. Just like an editor has to convert all speaker bios to third person for a conference.
Converse. It's hard to have a conversation on Twitter if you're not following back. If yours is a media organization, especially a dying medium like a printed newspaper, for the love of Pete, follow back. Many Twitter services will unfollow you – automatically – if you don't follow back. Even @Oprah could benefit from following back. Can't keep up with all your followers? Use TweetDeck's groups feature or get a second read-only Twitter account.
Link. Many third-party Twitter clients, such as TweetDeck, turn URLs with "http://" in them into hyperlinks, @usernames (@ErikJHeels) into Twitter account links, #hashtags into searchable topics.
Short URLs. Long URLs may be good for SEO, but short URLs are good for Twitter. I'm glad I kept the latter, because URL shorteners may be evil.
Click here to retweet. Should be self-explanatory.
Drawing That Explains #Twitter-Friendly Headlines
Because I like to draw drawings, here's one that summarizes my main point: Headlines are #Twitter tweets, make 'em count.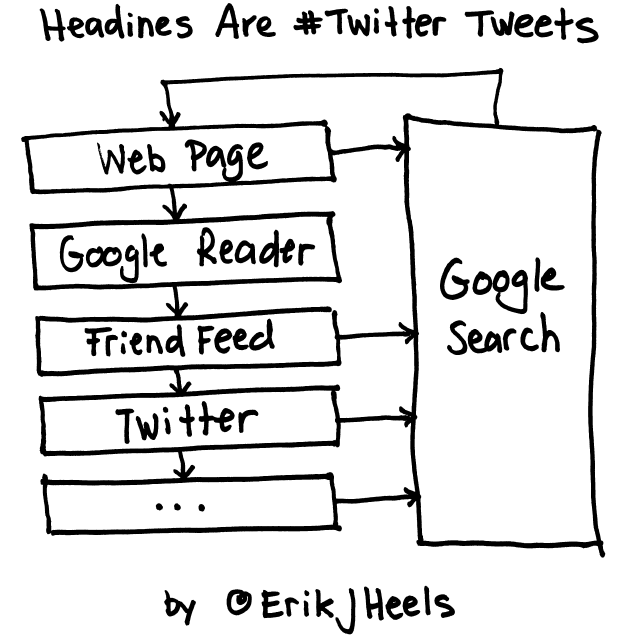 It's worth noting that not everything you write will end up driving traffic back to your website. Nor should that be your goal. Google Reader shared items, for example, are not indexed by Google. But they are searchable within Google Reader.
Your content wants to network: set it free. But brand it so that you get value from it no matter where it lives.
Related Posts:
---
Erik J. Heels is not a new media guru. Neither are you. On Twitter he is @ErikJHeels.