I WAS GOING TO CALL THIS POST 'HOW TO GET NOTICED' ON TWITTER, BUT I CHANGED MY MIND AND DECIDED TO USE THAT AS A SUBTITLE INSTEAD. SORT OF. THEN I REALIZED THAT SOMETIMES AN ARTICLE CRIES OUT TO BE IN ALL CAPS! THANKS FOR UNDERSTANDING!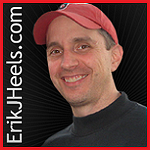 I LOVE MY TWITTER FOLLOWERS! I LOVE THEIR AVATARS! THESE ARE THE ONES THAT JUMP OUT AT ME! SOMETIMES IT'S GOOD TO BE NOTICED! SOMETIMES NOT! YOU BE THE JUDGE!
ANIMATION!
BARNYARD ANIMALS!
BIRDS 'N' BEES!
BODY PARTS!
CHARACATURES THAT ALL LOOK ALIKE – SO MAYBE YOU SHOULD GET YOUR MONEY BACK!
CLOSE TALKERS!
CLOSE TALKERS 2 – VERY CLOSE TALKERS!
PHOTOSHOP EXPERTS!
PHOTOSHOP EXPERTS – NOT!
LOOKS LIKE PORN – AND JUST MIGHT BE!
RED SOX LEGEND FRED LYNN!
RELATED POSTS!