Social networking terminology #fail: connections contacts followers following friends subscribers subscriptions.

FriendFeed's Bad UI And Worse Terminology
FriendFeed recently redesigned it's user interface (UI). From a reading perspective, it is better. From a management perspective, it is worse.
One of the problems with social networks like Twitter, Facebook, FriendFeed, Google Friend Connect, LinkedIn, and Plaxo is that the major social media players can't agree on what to call stuff. This causes confusion for those new to these services (whatever you call those people – members? subscribers?) and to old-timers like me.
For example, when Bob signs up to read Sue's tweets on Twitter, Bob is said to be following Sue. From Sue's perspective, Bob is a follower. Twitter does a pretty good job of identifying "following" and "follower" lists. Twitter's definition of "friend" is much more confusing. Is Sue Bob's friend? Is Bob Sue's friend? Or are they only friends if they are following each other?
Ignoring the confusing "friend" issue for now, FriendFeed's terms for "following" and "follower" lists is very confusing. For example, when Bob signs up to read Sue's FriendFeed account, Sue becomes one of Bob's "subscriptions." FriendFeed groups are also considered "subscriptions." From Sue's perspective, Bob is a "subscriber." But "subscriptions" are very confusing when viewed in a grid. A list of my "subscriptions" can be interpreted to mean either (a) users that have subscribed to me or (b) users that I have subscribed to.
Twitter's "following" and "follower" nomenclature is not perfect, but it is much more clear than "subscriptions" and "subscribers."
Mutual Followers On FriendFeed
I have made it a habit to try to follow those people who are following me on FriendFeed.
FriendFeed makes it easy to manage a list of your followers: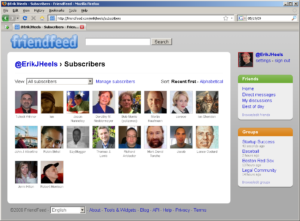 FriendFeed makes it easy to manage a list of your followers that you are not following: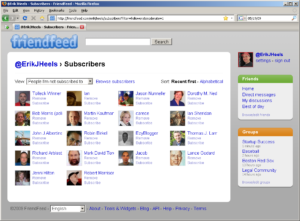 But FriendFeed makes it difficult to manage a list of those that you are following: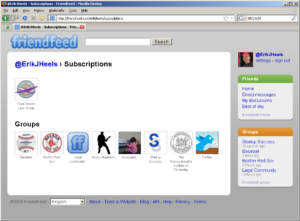 And FriendFeed makes it extremely difficult to unfollow anybody you are following, requiring you to click through to the follower's profile page and then click "unsubscribe" in order to unfollow a particular user: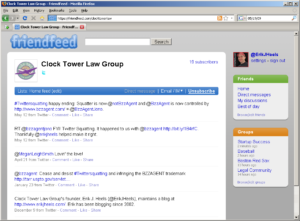 FriendFeed's Nasty Hidden FU "Feature"
While FriendFeed provides a list of your followers that you are not following, it does not provide a list of those you are following who are not following you back.
So this morning, I decided to unfollow all of those that I was following and then re-follow only those who are also following me. As I have mentioned previously, it is difficult to have a conversation if the relationship is not mutual and only one person is doing the talking.
Inexplicably, FriendFeed has two modes for viewing your followers, "browse" and "manage." In "browse" mode, actions are hidden by default, some are available by mousing over followers' avatars. In "manage" mode (which should be the only mode), actions are visible.
This morning, while viewing my followers in "manage" mode (and confused by the whole "subscriptions" "subscribers" thing), I thought I was looking at a list of those I was following. I then confused the "Remove" action for "unfollow" and proceeding to remove all of my 1000+ followers from my account.
This bears repeating. FriendFeed has a "Remove" function that, in Twitter language, forces one of your followers to unfollow you. This is worse than Twitter's "blocking" feature. One click, no "Are you sure?" dialog box, and your follower is gone. 1000 clicks and 1000 followers are gone. This was, of course, the exact opposite of what I intended to do.
In contrast, to actually unfollow somebody you are following, you have to click through to their profile page and click the "unsubscribe" button.
In short, FriendFeed makes it easy to say FU to your own followers and force them to unfollow you in one click while making it painfully difficult to unfollow somebody you are following. It is worth noting that the browse/manage modes that exists for your list of followers is absent for the list of those you are following.
Lessons Learned
Most social networks make it easier to add followers than to remove them. But FriendFeed's confusing UI takes it to a new level. To my 1000+ followers who I inadvertently said FU to this morning, I apologize. I will gladly follow you back if you'd like to re-follow me at http://friendfeed/erikjheels.
To FriendFeed I say: please fix your UI.
Dear FriendFeed, I have one more request. FriendFeed's social media badge is the best in the business. But could you please give us an option to use shiny large icons like the ones you use on your own website rather than the teeny tiny ones that are included in the badge by default?
Large social media icons FriendFeed's website:

Tiny social media icons in FriendFeed's badge:
To all social media providers I say: let's standardize social networking terminology to be less confusing to all users.
And if FriendFeed could restore my followers, that would be a bonus.
Related Posts
---
Erik J. Heels is not a new media guru. Neither are you. On Twitter he is @ErikJHeels.