With the name Heels, Erik Heels was destined to be either a podiatrist or a shoe salesman.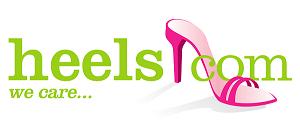 This is the story of how the www.heels.com morphed from a law firm website into a shoe store. And how Erik J. Heels went along for the ride.
On 08/02/95 Erik Heels registered the unusual "Heels" surname as the heels.com domain name and then used the heels.com domain name for his law firm from 1995-2003. In 2004, the growth of his law firm prompted a name change from Law Offices of Erik J. Heels to Clock Tower Law Group and a domain name change from heels.com to clocktowerlaw.com.
Erik has always realized the value of the heels.com domain name, and on 04/01/07 he announced his intention to sell the heels.com domain name so that it could be put to a more logical use than a law firm website or a lawyer's blog. He was inundated with offers because short, memorable, single-word domain names are hard to come by, but the valuation of the heels.com domain name priced many potential buyers out of the market.
In April and May of 2007, Erik began evaluating offers not only from prospective buyers but also from prospective business partners. In the Internet age, a good domain name is like real estate. If you own beachfront property, then it cries out to be developed for recreational use. Similarly, if you own a strong domain name, then it cries out to be developed into a commercial website.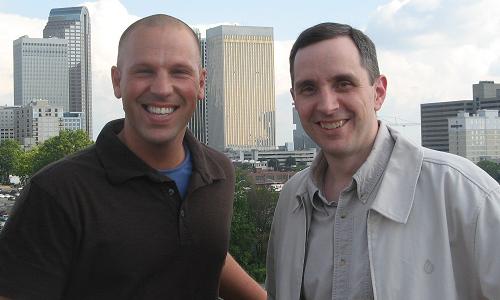 On 05/09/07, Erik Heels flew to Charlotte, North Carolina, where he and Eric McCoy shook hands on a deal to develop Heels.com into the premier online store for women's shoes. The above photo shows Eric Q. McCoy (left) and Erik J. Heels (right) with picturesque Charlotte in the background. Eric McCoy is a seasoned ecommerce veteran who runs both brick-and-mortar and online stores and has an in-depth knowledge of the shoe industry. Erik Heels's marketing, branding, and legal experience will help the new venture grow and protect the Heels.com brand and associated trademarks. Eric McCoy and Erik Heels formed Eric and Erik Enterprises LLC (EEELLC) to make their shared vision a reality.
The Heels.com store launched as a private beta on 07/30/07 and launched for the rest of the world on 10/08/07. The Heels.com team is still working out the bugs but are proud of what they've accomplished so far, both on the Heels.com store and the Heels.com blog.
So if you know some women who love shoes, then send them to Heels.com. And if you purchase some women's shoes before the end of the month, then you can use coupon code grand1 to get a %15 percent discount. And tell 'em that Eric and Erik sent you!
Related Posts